Uniform and PE Kit
---
Alongside the staff requirement to dress professionally, we require all of our students to dress in the specified school uniform at all times, with the exception of Sixth Form students who are asked to wear business dress.
The school does not tolerate students wearing nail varnish, discernable make-up, or any jewellery except a wristwatch. We also ask students to refrain from choosing extreme hairstyles (including unnatural colours).
Ties and blazers are compulsory items of our school uniform, and students may only wear plain black school shoes; no trainers, boots, logos, coloured trims/piping etc. are allowed.
ALL ITEMS OF UNIFORM SHOULD BE CLEARLY LABELLED WITH YOUR CHILD'S NAME
Changes to School Uniform & P.E. Kit from September 2022
The Government has issued new statutory guidance to all schools on the cost of school uniforms and the importance of ensuring that the cost is reasonable, securing the best value for money for parents.
At Altrincham College we believe that our school uniform is vitally important as it provides a sense of belonging and identity for our students, promotes equality and sets the tone for the expectations of the school environment.
In the light of the Government guidance, we have reviewed our current uniform policy and made changes to ensure that our uniform is more accessible and affordable for all families. Alongside these changes, we will also be encouraging families to donate used uniform to school so that we can establish a stock of second-hand items which will be readily available to support all of our families as and when required.
Below you will find details of our new uniform requirements which came into place from September 2022 onwards. We require all new starters to the school to comply with these expectations and for existing students to purchase replacement uniform when required in line with these expectations.
To ensure conformity, certain items of uniform (blazers, skirts, jumpers and ties) can only be purchased from our named suppliers:
Please read information about Monkhouse's new branding here
School Uniform from September 2022
* Indicates that this item MUST be purchased from the school stockists
Black blazer with school logo*
School tie with logo and year group colour* (please check with school or uniform supplier for correct colour)
Black plain weave school trousers (tight-fitting trousers, jeans, cords, canvas or patterned material not acceptable)
Plain black, KNEE LENGTH, loose fitting school skirt either A-line or A-line with central pleat (available from school stockists branded or plain) OR please see alternative skirt suppliers below.
Button to the neck, shirt: KS3 (Years 7-9) colour blue. KS4 (Years 10-11) colour white.
Black V-neck knitted sweater (Optional) (Sweatshirts or hoodies not acceptable):
Black ankle socks or black opaque tights; no knee-high socks or socks with bows.
Flat heeled black shoes – no trainers or trainer-type shoes, no logos, no coloured trims/piping etc; no fashion (dolly/ballet) or canvas shoes and no boots (Please see further information on appropriate school footwear attached).
Suitable school bag large enough to fit in an A4 folder and a pencil case filled with pens and pencils etc; no handbags
Alternative school skirt suppliers:
Large box pleat style skirt available from:
Marks & Spencer - M&S Collection

Girls' Permanent Pleats School Skirt

Product code: T760132 at £9-£14)

With adjustable waist and also available in Plus Fit, Slim Fit and Longer Length.

Asda (George at Asda Girls)

Black Box Pleat Skirt 2 Pack at £7.00)

With adjustable waist.
Additional Requirements:
No jewellery (except a wristwatch), no earrings or piercings
No nail varnish, gel acrylic nails or false nails
No discernable make-up (including false eyelashes/lash extensions)
No fake tan
Smart and tidy hairstyle - no unnatural colours or "extreme" styles, including shaved heads, No. 1 and No. 2 cuts. Long hair must be tied back for practical lessons (such as Food Technology, P.E., Science practicals and Design Technology).
No hoodies under or over blazers; in cold weather a dark-coloured coat should be worn
Technology apron (plain cotton or PVC) with bib for art and Food technology - compulsory item
No pens or pencils are to be carried in school uniform pockets at any time
Physical Education and Sports Kit
Students are required to wear the school kit for all PE lessons.
* Indicates that this item MUST be purchased from the school stockists
Compulsory Uniform
Navy polo shirt with school logo*
Either navy/sky blue rugby shirt* or navy with sky trim zipped fleece top*. NB: For rugby, boys will require a navy/sky blue rugby shirt
Navy knee-length sports socks
Navy shorts or "skort"
Trainers
Boys will require a pair of football boots
Optional Items
Plain navy-blue sports tracksuit bottoms (polyester/nylon) or plain navy-blue sports leggings (polyester/nylon – not fashion leggings). No visible branding or stripes permitted.
Plain navy-blue sports skins/base layers top and bottoms. No visible branding or stripes permitted.
Girls will be advised if football boots are required.
We ask that all items of clothing are marked with student's name, to prevent confusion during PE etc. and to allow ease of return should your son/daughter lose any item of their uniform or kit.
Uniform Requirements for Footwear
Students should wear appropriate footwear to school which should be smart and sensible. Below you will find examples of appropriate and inappropriate footwear. It would be impractical to provide a visual list of every type of footwear that we do/do not accept, but the information below should clarify the footwear standards we expect for students at Altrincham College to ensure that there is a balance between safety, appearance and durability.
Acceptable Footwear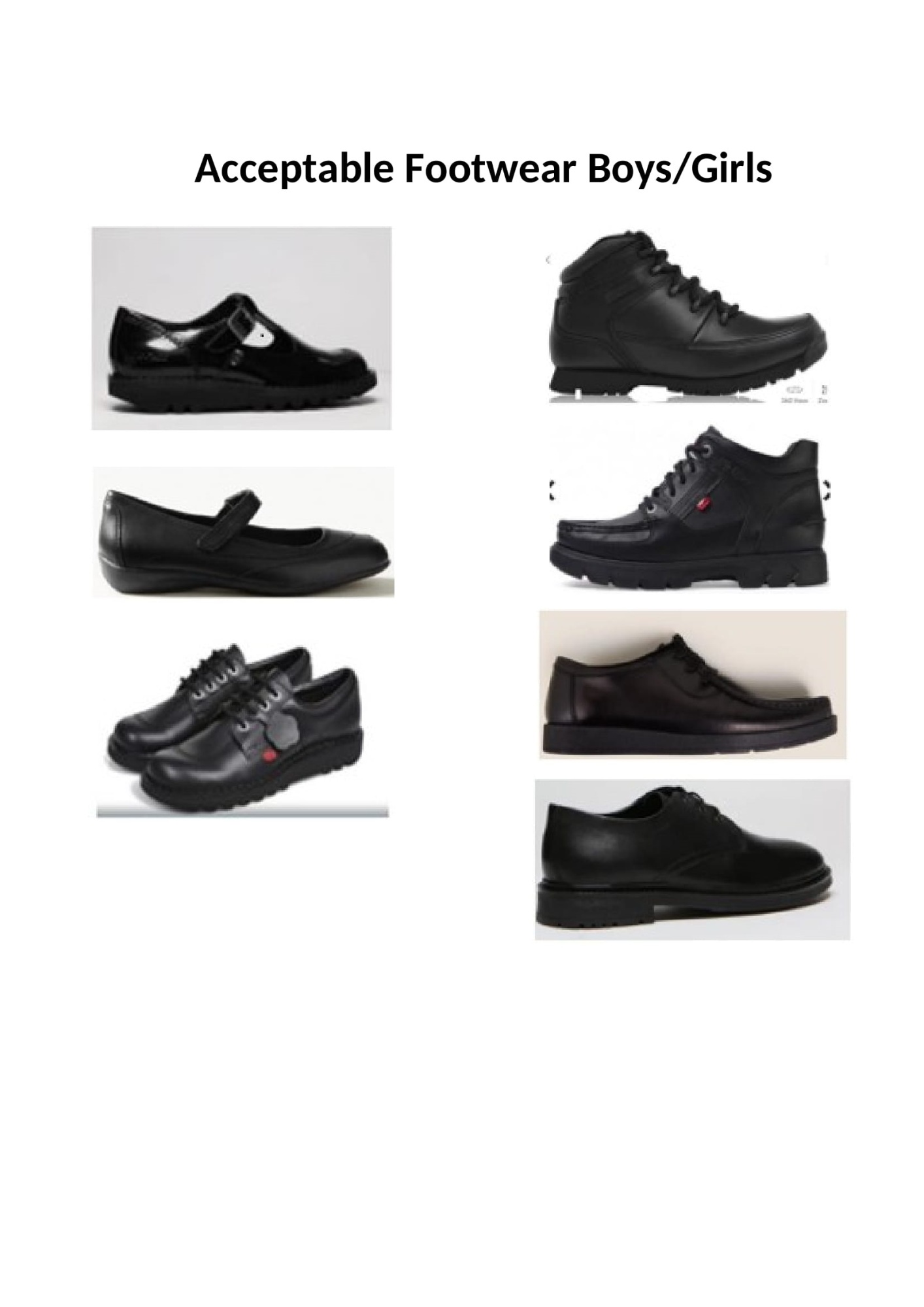 Unacceptable Footwear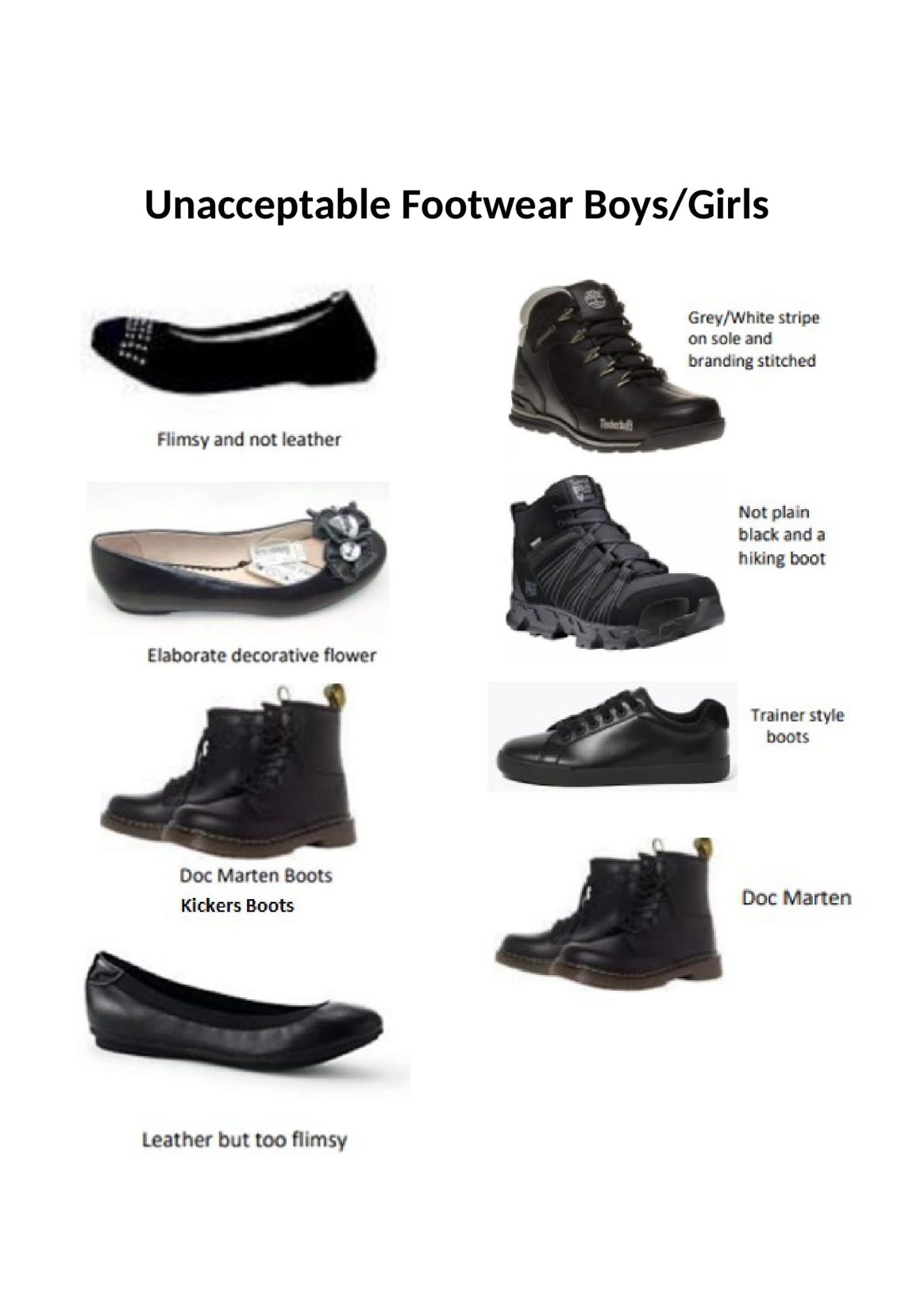 Second-hand uniform
Second hand uniform is organised by our Parents' Association and items are available. To check availability, please request via your child's form tutor, or by telephoning the school.
If you have any queries regarding our uniform policy, and would like to speak with someone at the school, please contact us.