Careers Events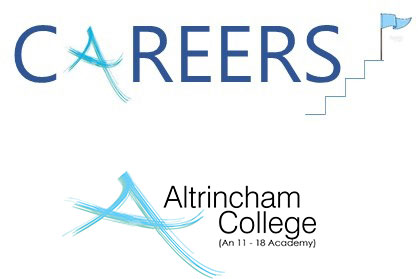 Below is a sample of the many careers events that take place at both at school and externally.
At the bottom of the page, you will find information to download about sixth form open events for Year 11 students that are taking place in and around our local area.
| | |
| --- | --- |
| BBC Bitesize: creative industries | |
| Year 11 Mock Interviews | |
| Bespoke careers talks from industry professionals | |
| Operating Theatre Live | |
| Army Drop In | |
| Police visit | |
| University & Apprenticeship fair | Apprenticeship Talk |
| Employability Skills | Ogden Trust: Careers in Physics for girls & mothers |
| Aspire mentorship programme Salford Foundation | Maths research career lesson, Y9 |
| Year 12 workshop on the importance of work placements | Engineering drop-in |
| Year 9 Options Talks | BBC Studios Tour - Aspire programme |
| Skills Centre Visit | Law Careers Event: Kennedys |
| Year 10 & 12 Work Experience | Apprenticeship drop in – Growth Company |
| Post-16 options talk | Post-18 Information Evening |
The careers programme at Altrincham College is as follows:
During Year 7 and 8, students have lesson time built into the end of the PHSE scheme, which explores all three careers aims during the summer term.
All form tutors use career resources in relation to the career aims, mainly focusing on career exploration. Resources are also provided in relation to Labour Market Information and money management.
During curriculum time, teachers are developing resources linked to careers and are introducing employer encounters. The Maths department produced an activity per year group:
Year 7: Pupils were set homework asking family members how their jobs involve Maths. Pupils will then created a power point presentation or poster to present to the class.
Year 8: A one off lesson with group work and activities. puzzles, you may face in the working world.
Year 9 – Computer research and presentation project during lesson time.
Year 10 – One week of form activities, PowerPoint and booklet and Maths careers assembly delivered and completed during National Careers week.
Year 12 – Trip to University of Manchester: mechanics based applications within careers.
Year 13 – Talk about '10 years on' of how people have used A level maths in their career.
During Science week in March all assemblies are linked to STEM careers and Labour Market Information
Students in all years will be introduced to the Connexions Careers Advisor. All year 11's will have at least two meetings to discuss their plans and support with application forms. Year 10's will also have this opportunity from Easter.
Year 11 students have a scheduled practice interview with an external employer and will produce a CV.
All students will have employer encounters, in the form of career talks or information stands at lunch time. The encounters are built into the curriculum, form time and during enrichment time.
The Aspire programme, via Salford Foundation, works with small cohorts of Year 8 and 9 students with different employers with the aim of developing the student's employability skills and providing them with a workplace visit. One recently took place at the BBC studios at Media City.
Year 10's and Year 12's are given the opportunity to find and attend a week's work experience placement. We work with 'Our Futures Ltd' who facilitate the health and safety paperwork.
Year 12 and Year 13 students have intensive support in future planning through university campus visits, personal statement workshops and support, visits to university and apprenticeship fairs, as well as lots of sessions run by employer and apprenticeship providers to provide students with options for their future.
Students in Year 12 can choose to join the Young Enterprise programme. Enterprise activities and events are promoted to students across all year groups, with opportunities for them to also get involved.
A small scale university and employer fair will be available for students to attend during lunchtimes in the week of 20th April.
A variety of career related trips will occur including 50 x Year 10 students to visit 'Skills North West' at Event City in March. Students in year 12 visit two university campuses.
BBC Bitesize event: in February, all students in Year 7, 8. 9 (and students in Year 10 and 11 who study creative subjects) listened to four people talk about their career journey within the creative industry.