Results
Given the uneven impact of the pandemic on 2021/22 school and college performance data the DfE recommends to not make direct comparisons with data from previous years or between schools or colleges.
Key Stage 4 Results: 2022
| | |
| --- | --- |
| GCSE Results | 2021-22 |
| % 9-5 in English and Maths | 53% |
| % 9-4 in English and Maths | 71.4% |
| Progress 8 Score | -0.22% |
| Attainment 8 Score | 49.3% |
| EBACC APS | 4.2% |
| % Entered EBACC | 20% |
Percentage of Year 11 students staying on in education or employment after key stage 4:
| | | |
| --- | --- | --- |
| 2019-20 | | |
| In education or employment | 162 | 99.4% |
| NEET | 1 | 0.6% |
| | | |
| --- | --- | --- |
| 2020-21 | | |
| In education or employment | 165 | 100% |
| NEET | 0 | 0% |
Sixth Form Results: 2022
| | |
| --- | --- |
| Sixth Form Results | 2021-22 |
| A Level | |
| % Students included in best 3 A Levels | 47.5% |
| % Students achieving AAB or higher | 6.9% |
| Average result in school | C- |
| Average result across England | C+ |
| A Level Average Point Score | 28.38 |
| | |
| --- | --- |
| Sixth Form Results | 2021-22 |
| Applied General | |
| Applied General Average Point Score | 32.00 |
| Applied General average grade | Dist- |
| Applied General Value Added | -0.09 |
Destinations
| | | |
| --- | --- | --- |
| Destination | 2020/2021 | 2019/2020 |
| University | 77.1% | 84.9% |
| Apprenticeship | 18.6% | 6.5% |
| Employment | 1.4% | 4.3% |
| Further Education | 2.9% | 0% |
| Gap Year | 0% | 4.3% |
| NEET | 0% | 0% |
To identify how Altrincham College compares to other schools both locally and nationwide, you can visit the DfE School Performance Tables Website.
Increase in number of top A Level grades for students at Altrincham College!
Despite press reports of thousands of students missing out on the top grades this year, we are delighted to report an upward trend for our sixth form students, whose top grades increased by more than 40% when compared with 2019.
Departments which performed particularly well include Maths, Biology, Psychology, Sociology, Business and English Literature.
Kim Earle, Headteacher and CEO of the South Manchester Learning Trust, said, "We knew that our hard-working students would do themselves proud this year and they certainly have! I am delighted with this year's A Level and vocational results, the best A Level results since the sixth form opened! Well done to all our Year 13 students and a huge thank you to our staff!"
Head of Sixth Form Katy Brennan added, "I am so proud of our Yr13s; they have been resilient, committed and focused throughout their journey with us and all of their hard work has paid off. It has been wonderful to see so many happy faces this morning and for the vast majority of students meeting the requirements of their university offers. Many thoroughly-deserved success stories – well done to an amazing year group."
Our students have much reason to celebrate, with the majority taking up places at their first-choice universities: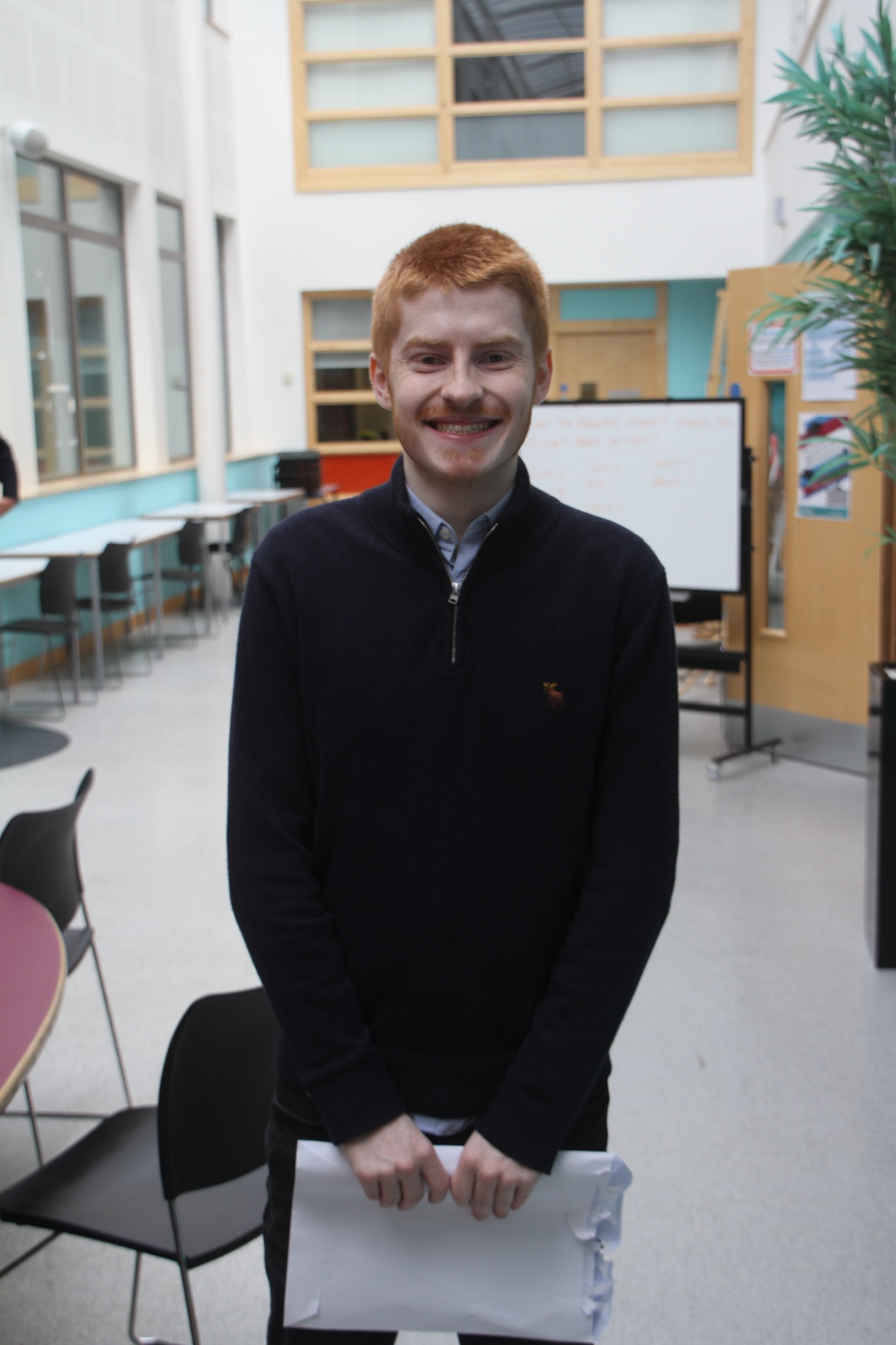 Adam who achieved A*AA has accepted at place at Durham University to study Chemistry, said, "I am so happy that I got what I needed for Durham! It's very real now."
Student Gracie was awarded A*A* A and is heading to Liverpool John Moores to study Paramedic Science. Gracie, who was one of the highest achieving psychology students in the country, said, "I am really grateful to my teachers for their support. I am going to miss my friends, but I am looking forward to university and becoming a paramedic."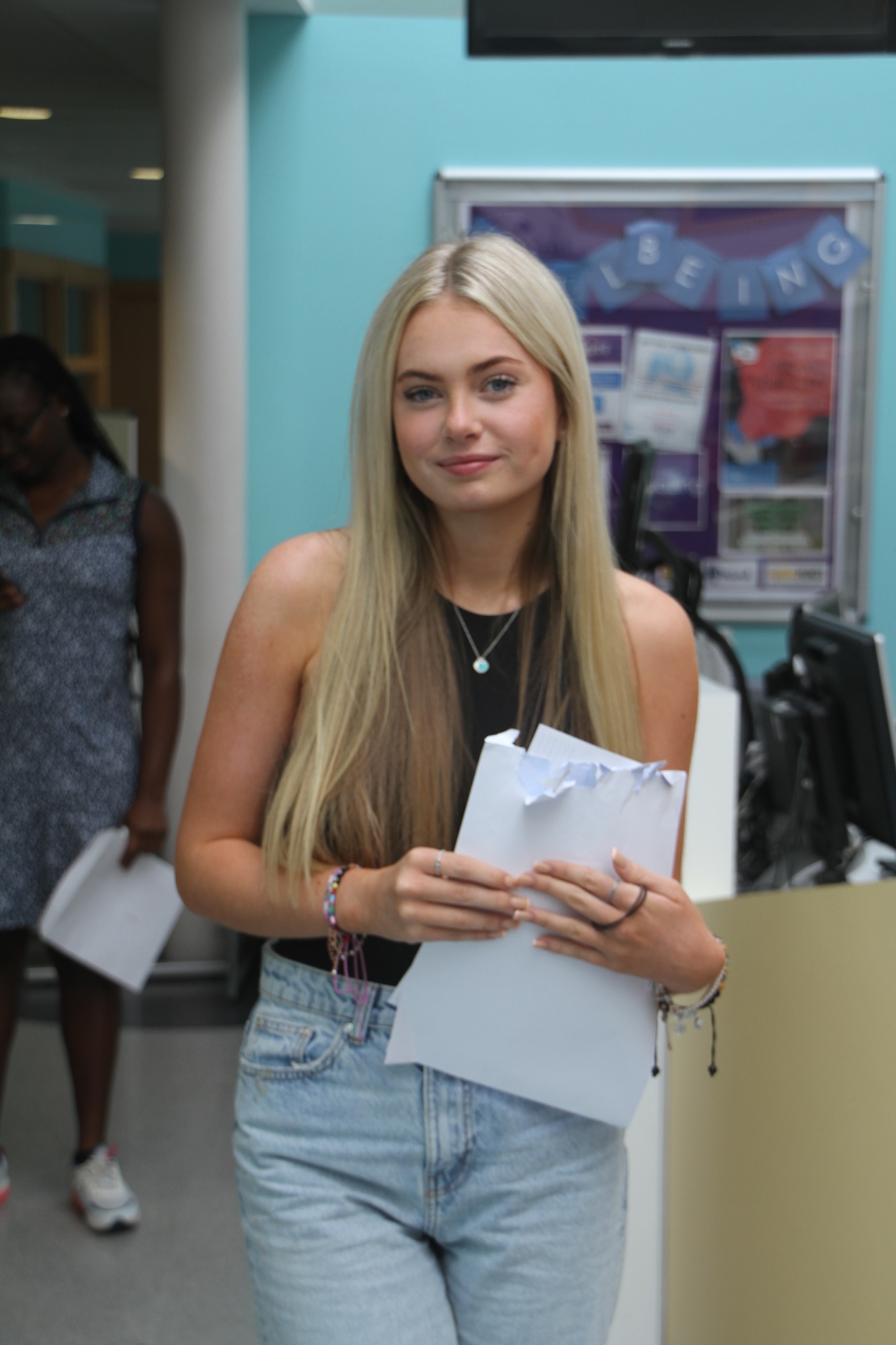 Further success stories include Aidan (AAA) who is going to University of St Andrews to read Biology, Ashley (AAA) who is taking a gap year and then applying for medicine, and Robert, who achieved A*AA, to study Biomedical Science at the University of Sheffield.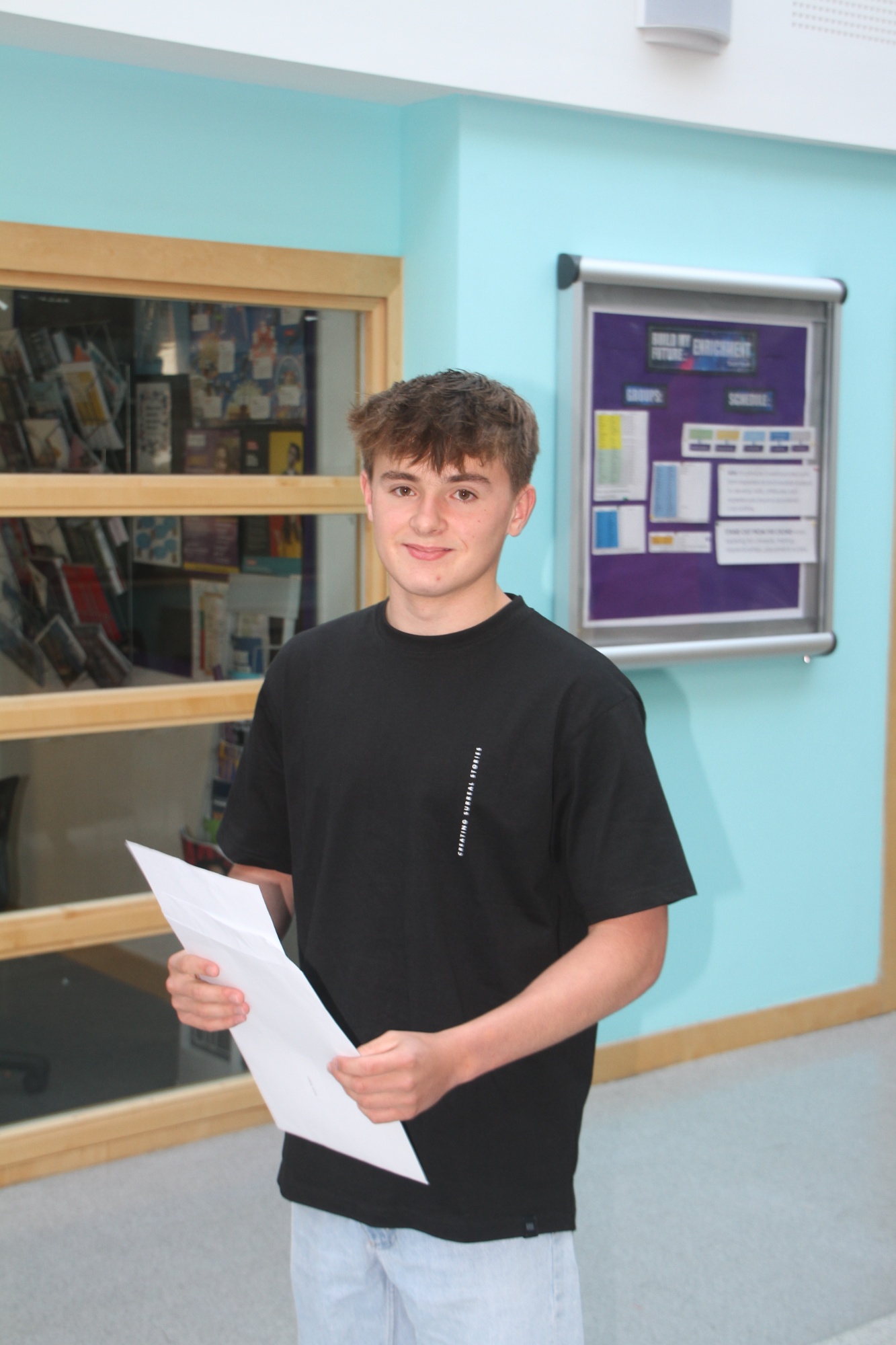 Robert said, "I am very happy with my grades. The teachers and the sixth form have been great." Ashley added, "the support I got from staff at Altrincham College encouraged me to work hard and get to where I need to…I am very grateful for that."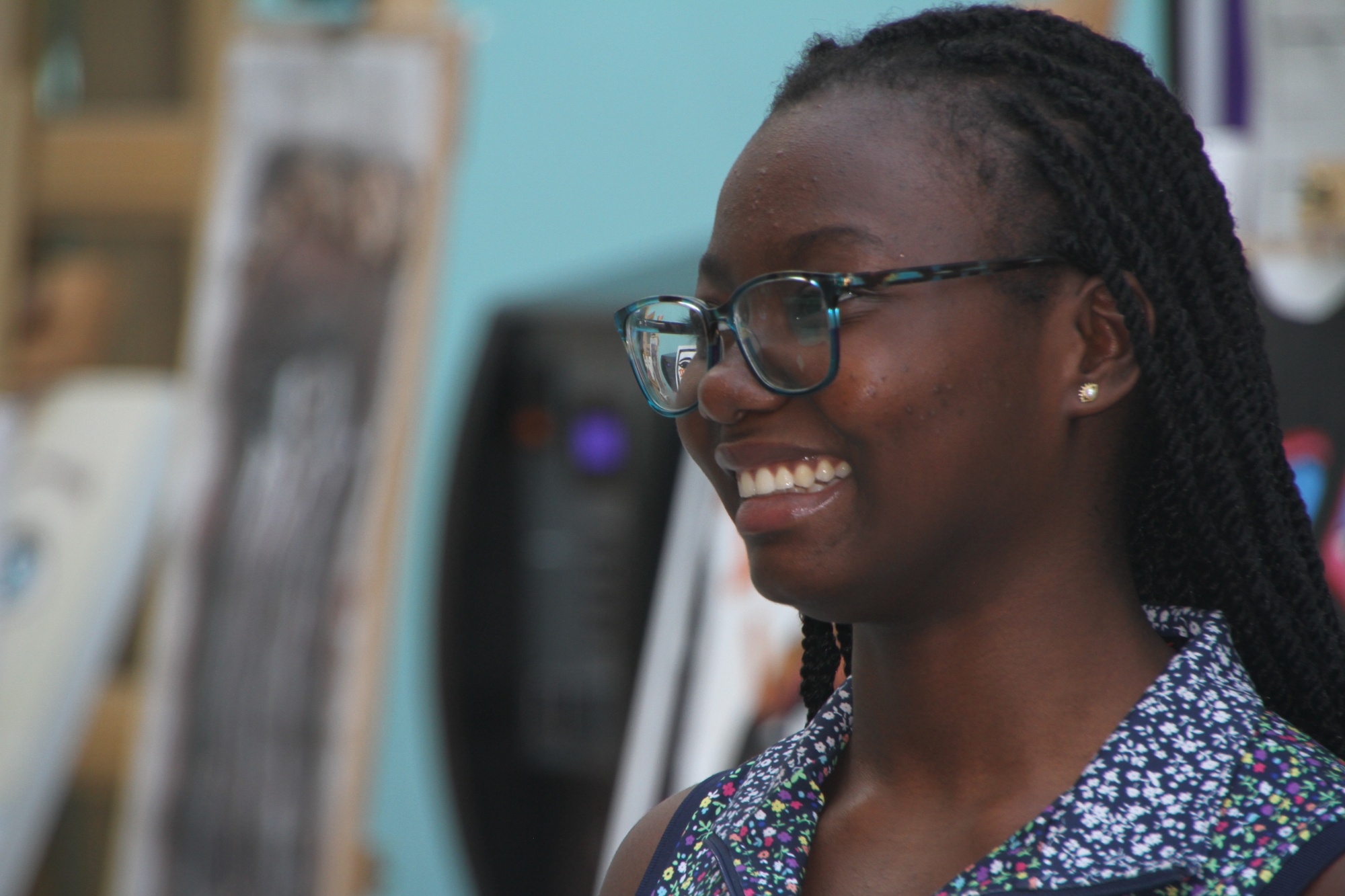 Students studying vocational subjects are also celebrating their results today. Fashion students Kirsty and Evie, who achieved an A at A Level and distinction grades in fashion, are pursuing Fashion and Design at MMU and Fashion Business and Promotion at Salford University, whilst media student Chloe (distinction, distinction, distinction) has accepted a place at the University of Exeter to study Film and Television. Kirsty said, "I am really happy that my hard work paid off!"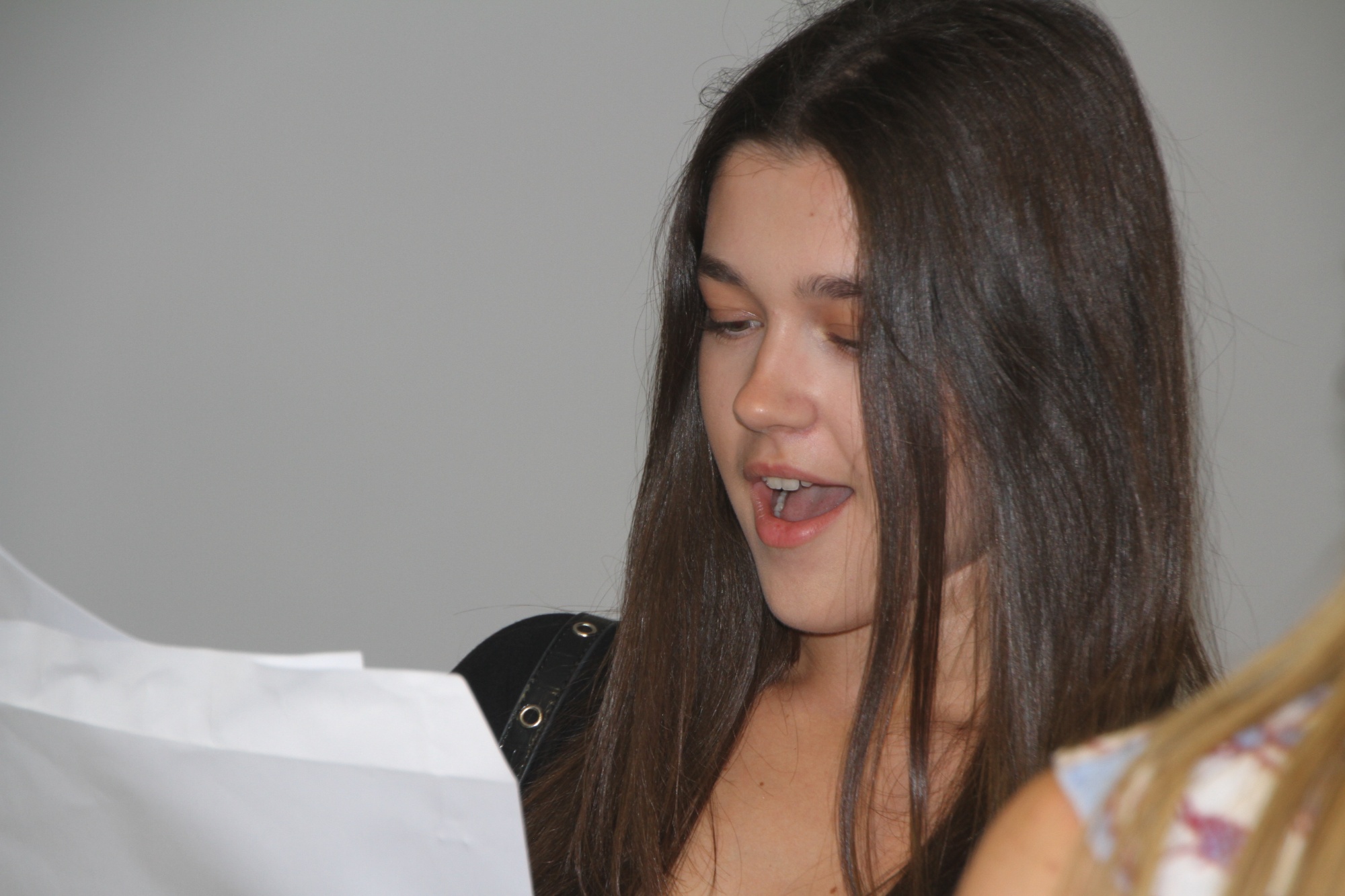 Further congratulations go to Jack B who has already begun his football scholarship in America, studying at Missouri Valley College.
At Altrincham College we continue to offer a comprehensive range of both A Level and vocational subjects. Year 11 students who would like to join our exciting, high-achieving Sixth Form should contact Head of Sixth Form, Mrs Brennan at: kbn@altrinchamcollege.com
GCSE Results Day 2023
Top Grades in GCSE English and Maths increase by 30%!
Year 11 students at Altrincham College were delighted this morning as they opened their GCSE results. There was much to celebrate, as the number of students achieving top grades 9-7 in English and Maths increased by 30% compared to 2019, and the EBacc pass rate also increased significantly.
Headteacher and CEO of the South Manchester Trust Kim Earle said: "Our Year 11 students, who have spent the majority of their time at secondary school under the shadow of the pandemic, achieved remarkably well. This resilient and determined body of students should be very proud of what they have attained."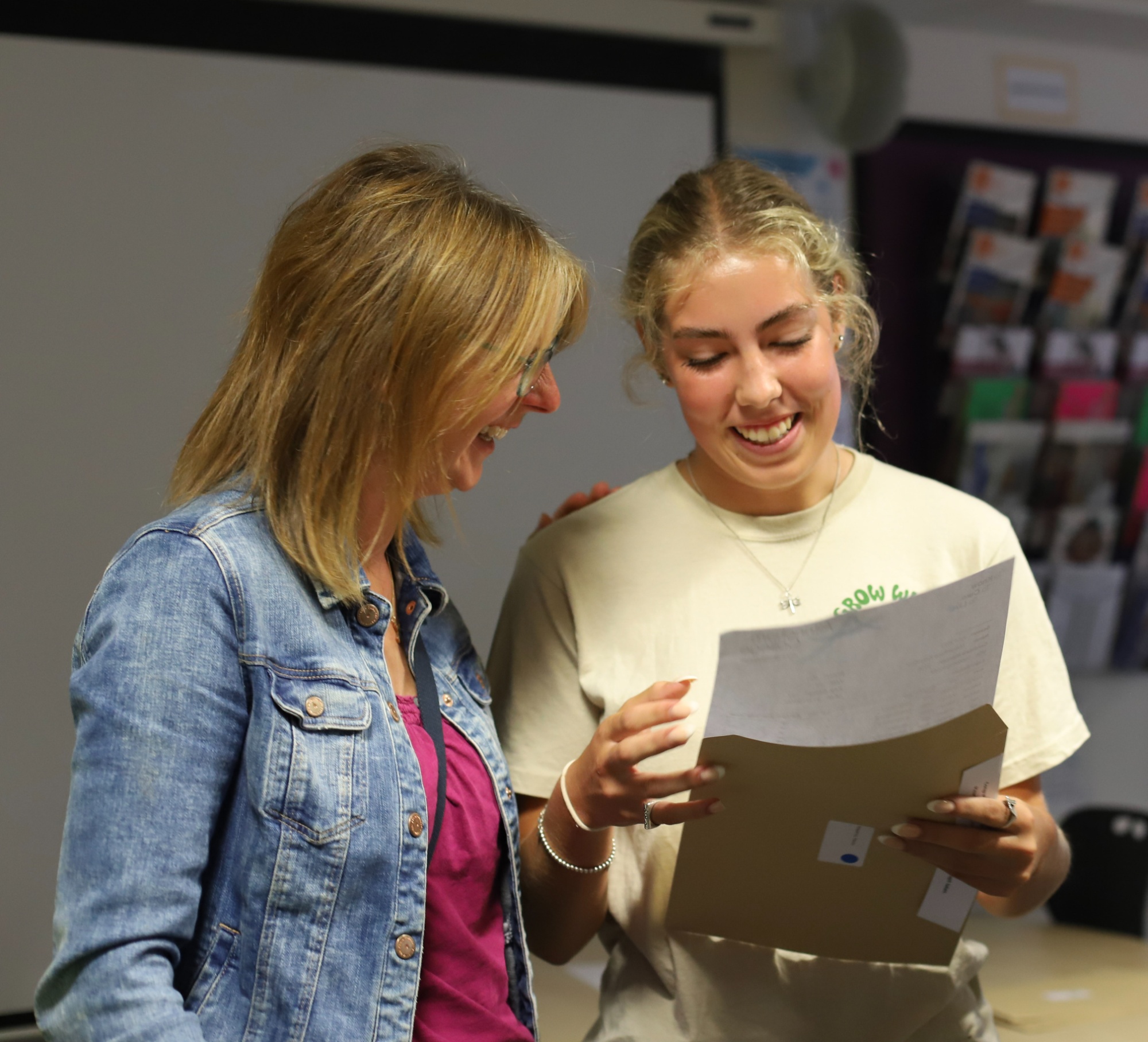 Ms Earle extended her praise to staff at Altrincham College, whose quality teaching has enabled students to reach their full potential.
Student Ali (below), who achieved grades 7s and 8s in the sciences and wants to continue these subjects at A Level, praised his teachers for their support during this 'crucial time'. Upon enrolling at Altrincham College's Sixth Form he said: "my dream of studying medicine at university could soon be a reality!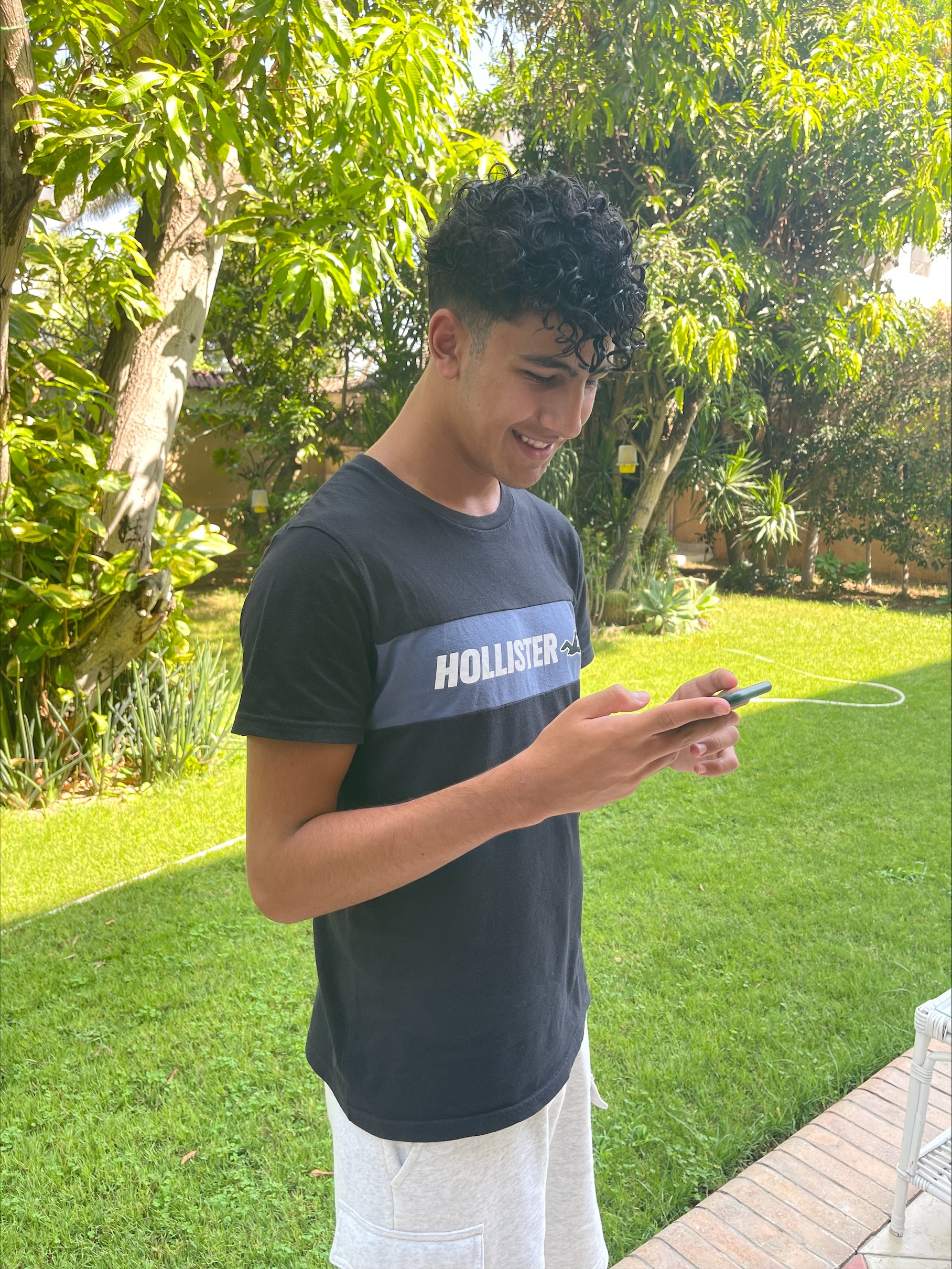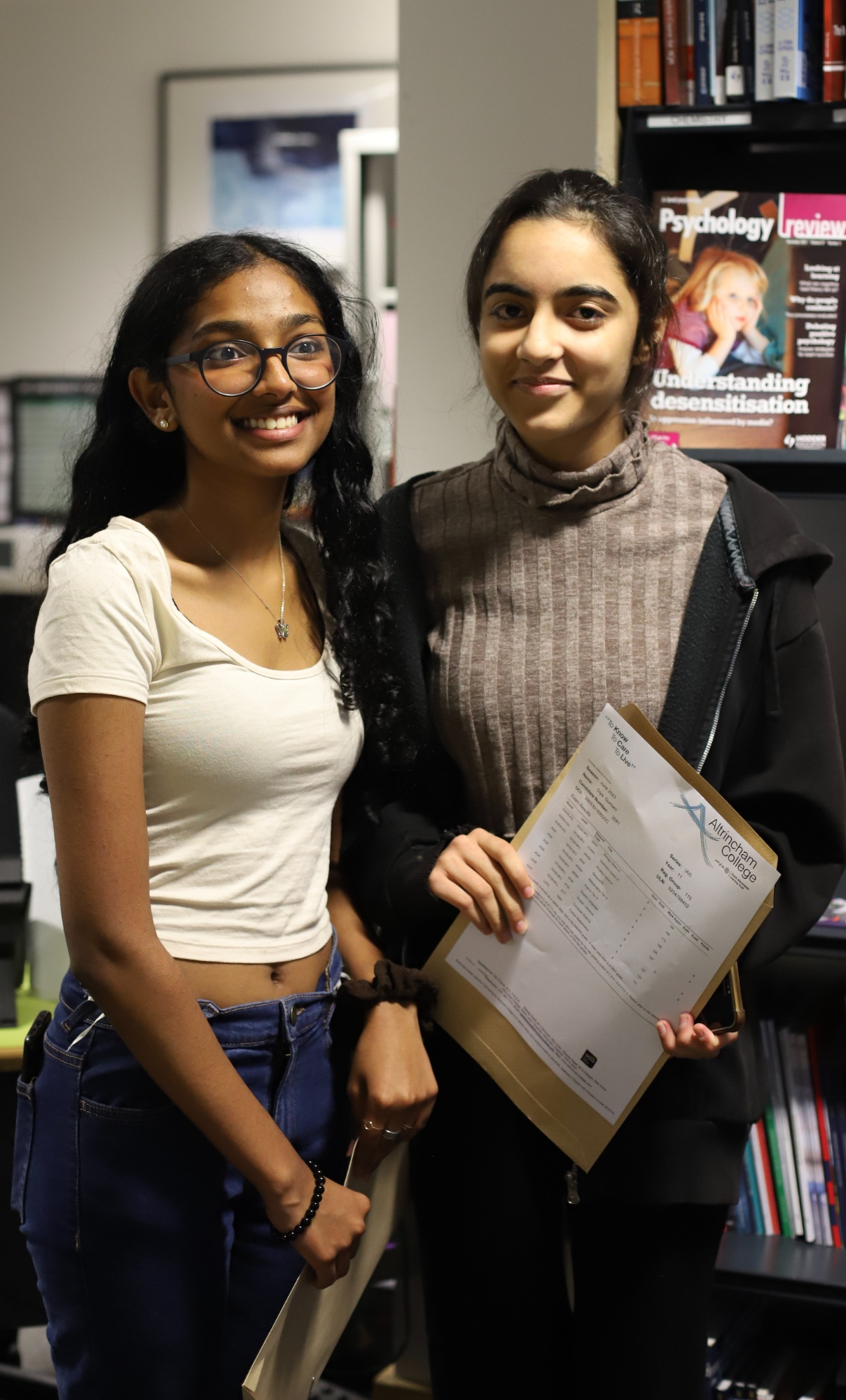 Further success stories include student Diya, who achieved an impressive eight grade 9s and two great 8s at GCSE, and Anna who achieved four grade 9s, four grade 8s and two 7s. Both students (pictured above) want to study A Levels in Biology, Chemistry and Maths. They said: "we are so shocked, but very happy!"
Daryna (pictured below), achieved four grade 9s, three 8s and three 7s, whilst student Juri, who aspires to study Law at Oxford one day said: "I really didn't expect to get these results and I had prepared for the worst, but I am so happy!" Isabel expressed her delight in achieving grade 9s in both Chemistry and History, which she hopes to continue at A Level, along with Politics.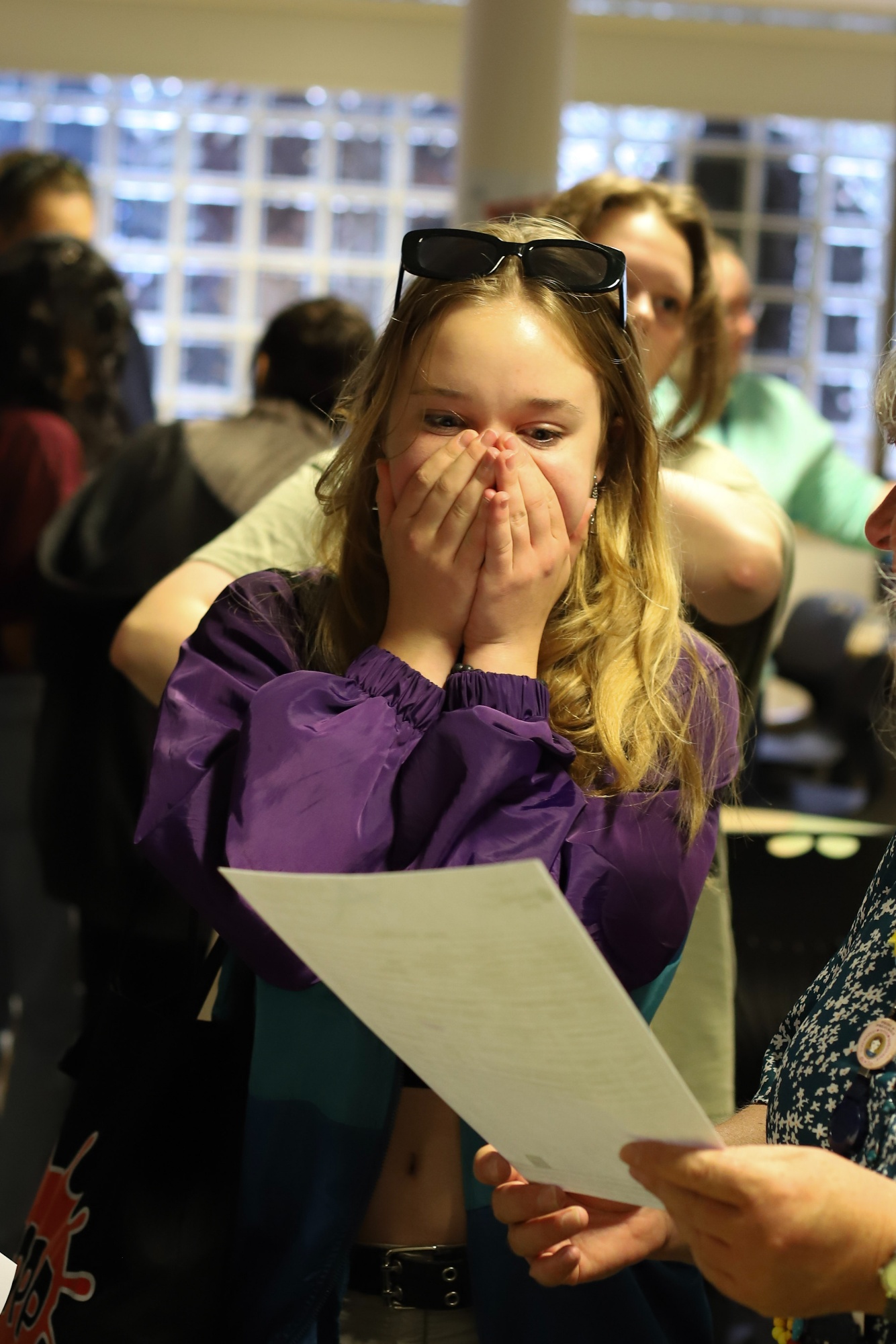 Staff are looking forward to greeting lots of familiar faces in September when students return to join Altrincham College's Sixth Form to commence A Level and vocational courses.