About Cafe Connect - by our students
In our Sixth Form there is a wide variety of food for our students to enjoy. Both hot and cold food is available, along with snacks for the sixth form students to enjoy, served by our amazing kitchen staff! The café is a place where students can relax and socialise.
The café opens at 10:05am so students can pur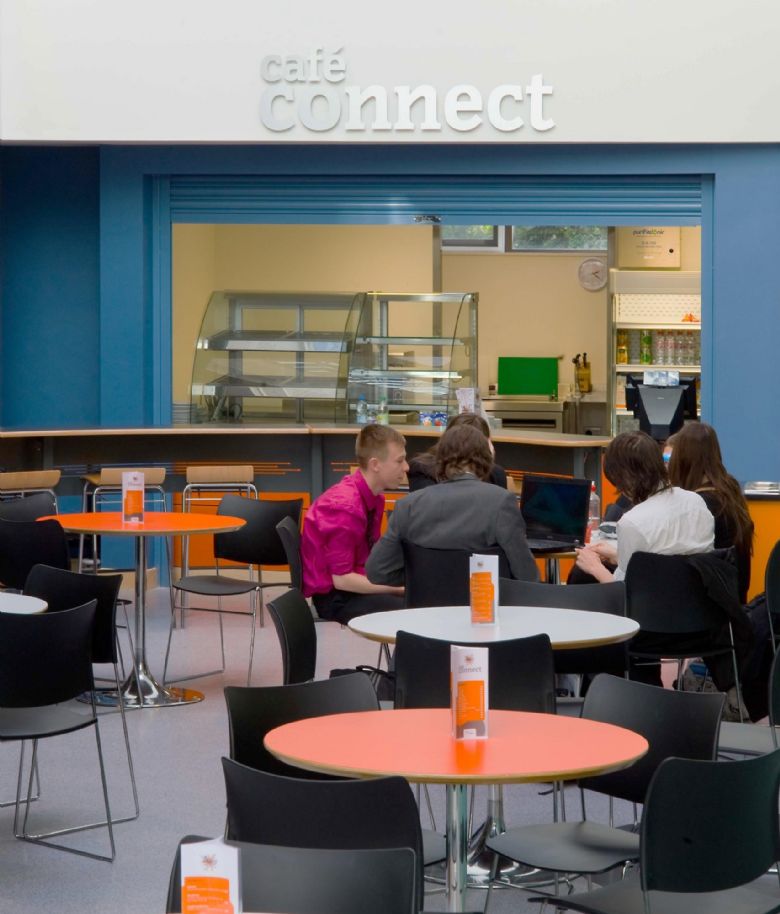 chase food at the beginning of period 2 and it closes at 2:10pm, which is period 5. The café remains open all day so that students can get food and drink in their free periods. This also helps to avoid queues at break and lunchtime because students can get food throughout the day. When lunch is served at 1:30pm, there tends to be a bit of a queue, however the queues goes down rather quickly.
---
Cafe Connect Menu
Lunch Menu
Pasta pots - £1.60
Curry - £1.60
Chicken Wraps - £1.60
Chicken Burgers - £1.60
Beef Burgers - £1.60
Hot Melts (BBQ Chicken) - £1.60
Pennines - £1.80
Pizza slices - £1.15
Chips - £1.20
Chilli burritos - £1.60
Jacket Potatoes with one filling - £1.10
Jacket Potatoes with two fillings - £1.50
Cold Food - served all day
Sandwiches (Type A and B) - £1.20
Sandwiches (Type C and D) - £1.45
Sandwiches (Type E and F) - £1.80
Sandwiches with salad - £1.80
Cold Wraps - £1.80
Salad - £1.50
Pasta Boxes - £1.20
Snacks
Crisp - 65p and 85p
Cookies - 65p
Muffins (blueberry, double chocolate and toffee) - 65p
Large yoghurt - 65p
Small yoghurt - 45p
Fruit bag - 45p
Fruit - 30p
Fruit pot - 50p
Jam - 12p
Drinks
Chocolate milkshakes - £1.20
Banana milkshakes - £1.20
Strawberry milkshakes - £1.20
Coca Cola - 85p
Diet Coca Cola - 85p
Coca Cola zero - 85p
Sprite - 85p
Large Water - 65p
Small Water - 45p
Sparkling Flavoured Water - 65p
Orange Juice - 50p
Apple Juice - 50p
Flavoured Water - 85p
Milk - 30p
Smoothies - 65p
Break menu
Toast - 25p
Bacon - 50p
Sausage - 50p
Bagels - 60p
Mini pizza - 50p
Hash Browns - 50p
Potato waffles - 50p
Toast with bacon/sausage - 70p
Bagels with bacon/sausage - £1.10