Once again, we been astounded by the hard work, enthusiasm and resilience shown by Altrincham College students. Staff have been delighted to hear how productively you have been spending your time away from school and to see the fantastic work you've produced. Well done to all students mentioned. Please continue to contact us and tell us how you are rising to this new challenge.
At Altrincham College, we always aim to make a positive contribution to our local community. This week, our wonderful science technicians have packaged up safety goggles and gloves from our science labs and sent them to be used by frontline NHS staff at Wythenshawe hospital. Mrs Waring wrote a beautiful note on behalf of the school saying that we love all NHS staff and that we were proud to give something and wished it could have been more.
Year 7
Kai: Kai's not only been working hard exercising each morning with Joe Wicks, but he has also tackled and completed lots of the homework. Kai has also made two different tea's this week. He helped out by making sausage casserole and beef stew. His family are very proud of how he's adapted to this strange situation and shown resilience and self-motivation. Well done Kai.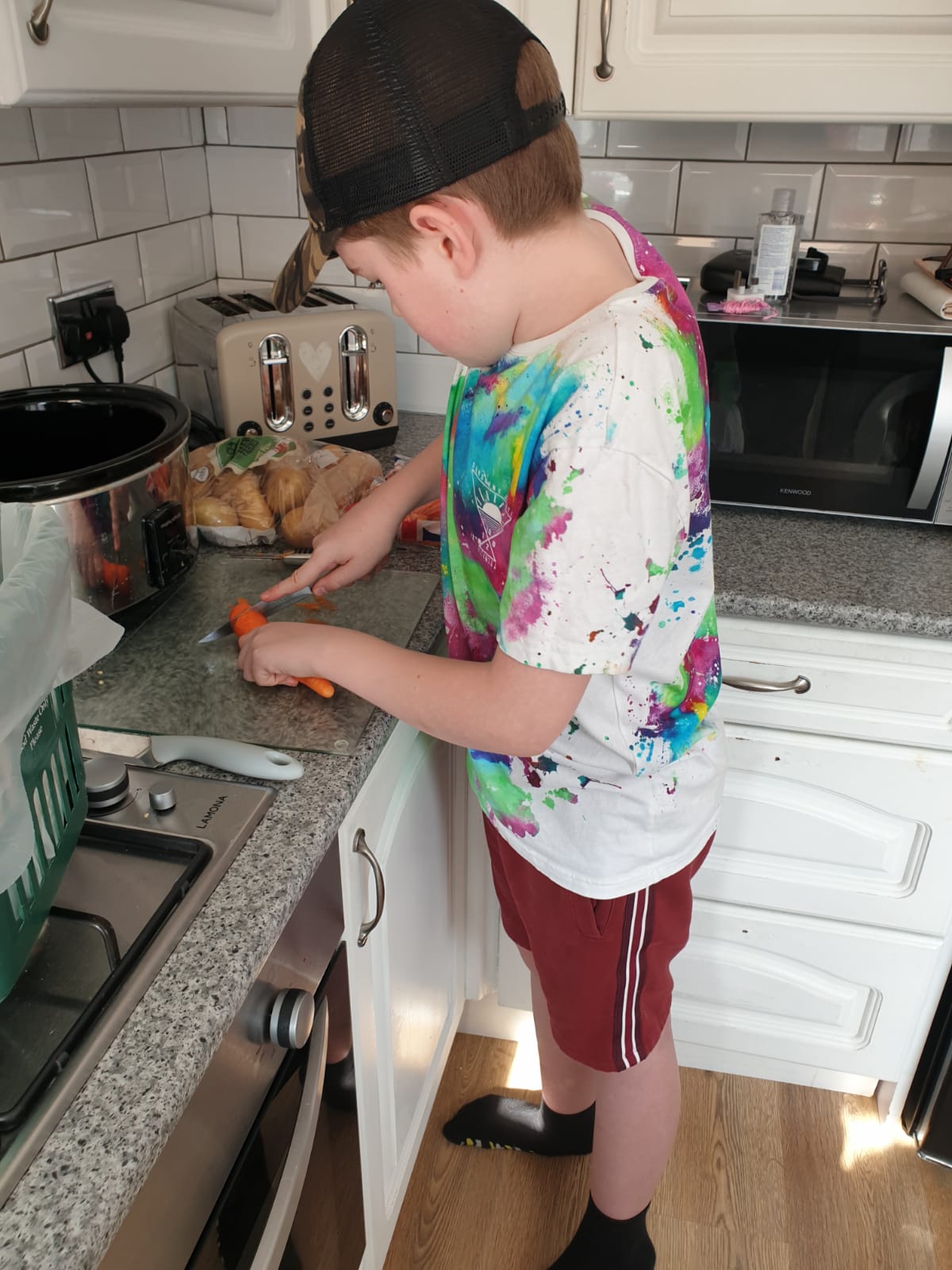 Kade: Kade has been keeping busy with homework, cooking and helping to wash the car. He has also helped his sister with her fractions and times tables!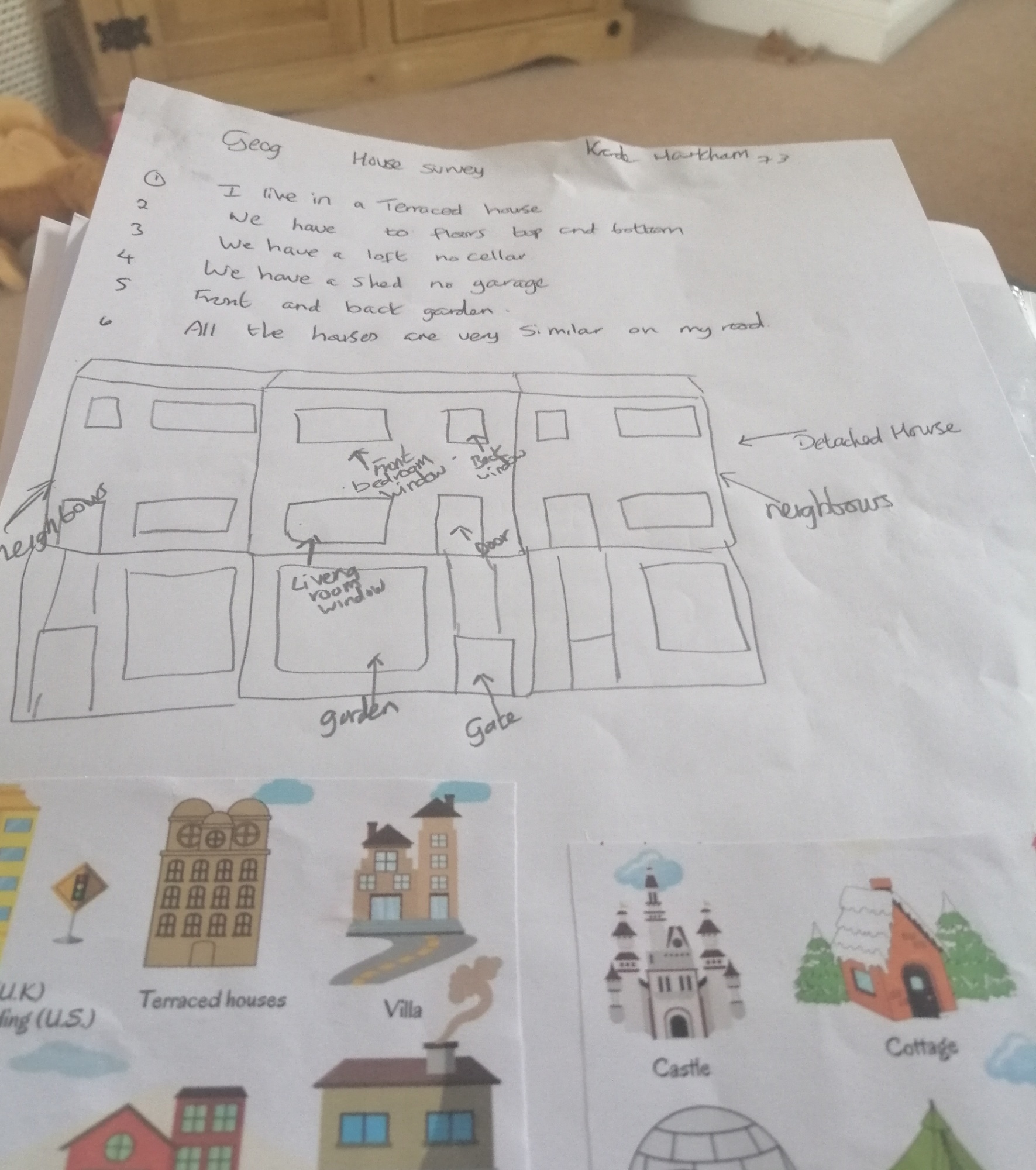 Isabella: Isabella has completed a huge amount of work to a really impressive standard. Her teachers have been delighted with her focus and determination. She's completed projects in Music, Textiles and Drama. We're so proud of your efforts Isabella.
Leonardo: Leonardo has been busy keeping fit and has devised a work out plan that he kindly shared with Mr Larkin. He's also been playing football and rugby with his family. There have been an amazing six positive emails from staff nominating Leonardo for his hard work and the completion of home learning tasks. This is incredible. Well done!
Amber: Amber has been nominated by several members of staff. She has completed a huge amount of home learning to a really high standard. This enthusiasm and positive approach is highly respected by your teachers Amber. Well done.
Kade: Kade has done some of his homework and has been cooking and helping wash t;he car. He's helped his sister with her fractions and times tables.
Vishva: He has been learning Python. Python is a programming language which is used on every professional website around the world. He has finished the whole of the beginner's course. Vishva says, "It was really hard at some points but overall if you understand it, the more easy it is. This isn't my first time learning a programming language. In the past, I learnt 2 different languages such as HTML, C++, and a tiny bit of JavaScript."
Isaac has been creating some amazing artwork in his free time
Hallie has been a really conscientious worker
Ollie has produced wonderful food when baking at home
Year 8
Juri: over the past couple of weeks, Juri has been cooking, cleaning and studying. She's also taken this opportunity to draw in her sketch book. She's helped at home by feeding her two younger sisters and she's completed several 30 minute runs in the park near her.
Over the weeks to come, she plans to spend my time studying, exercising and attempting the challenges set for year 8. It sounds like Juri has created a great balance between studying, exercise and creative tasks. It's really important to build in time for fun and relaxation, alongside your academic studies, whilst approaching this new system of home learning.
Daryna: so far, Daryna has done half of her homework. She's done quiet a lot of drawing. She's done the history reading challenge and has started reading book about WWII. Daryna is staying really positive and making the best of this strange situation. She reports, "I really enjoy everything I am doing."
Lena: Lena has been trying to help at home and help her parents around the house. She has been doing her homework and working out everyday. She sent us a lovely picture of her sorting the laundry! Lena has also completed a wonder rainbow of kindness for Mrs Woods in Year 8's weekly assembly challenge.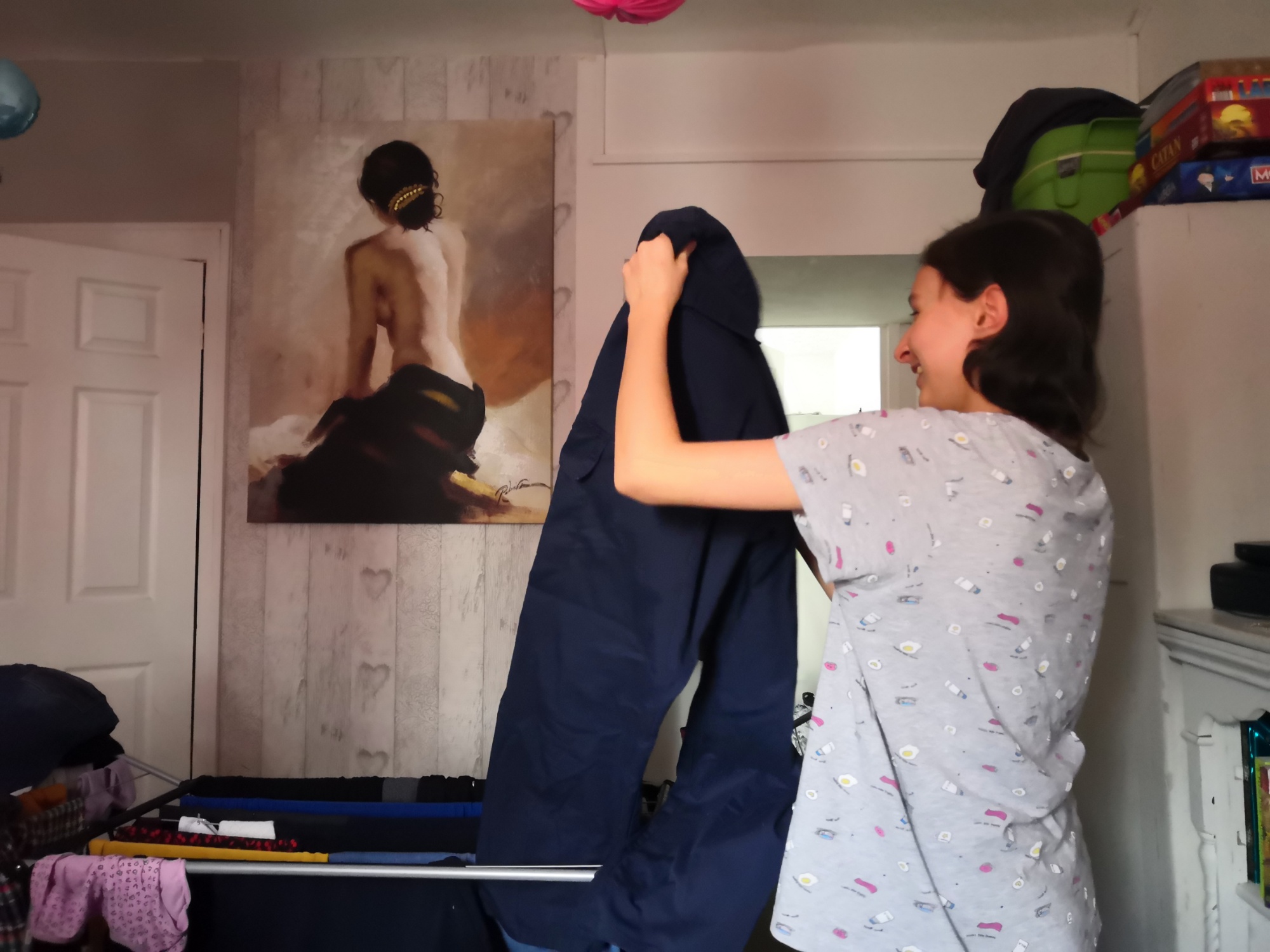 Ella: Again, completed a lovely rainbow of kindness for Mrs Woods showing her what she is grateful for.
Diana: Diana received 5 class chart points for her English work from Miss Greenhalgh; keep it up!
Ali: Ali has fully completed the History Reading Challenge and a book review to go with it.
Year 9
Callum: Callum has been completing some great work for Mrs Crossley, in English. He has met deadlines promptly and responded to all feedback. She is very impressed with your efforts and the quality of your work.
Ben: Ben has also completed the History reading challenge and a book review to go with it.
Holly has been an independent learner and incredibly self-motivated
Year 10
Terri: Terri is sending Mrs Bradley an essay each week. So far she has completed a poetry essay and a creative writing essay. Terri has also been researching plays for next year's practical Drama exam. She is clearly working hard. Well done for adapting to this new way of working so quickly Terri. You've shown grit and determination to succeed in even in the most challenging of circumstances.
Ndumiso: Ndumiso has been completing English work and has submitted some pieces before the deadlines. This organisation will help him in the coming weeks and prepare him for the hard work and rigours of year 11. Well done.
Ellie: Ms Warburton is delighted to see Ellie working hard on the Edulink site. She has been completing English learning tasks and is committed to using her time productively.
Mitchell: Mitchell is studying well at home. Ms Sumner is very proud of your efforts.
Year 11
Tom: Tom has been studying everyday and also putting his Food & Nutrition into action by baking and cooking for the elderly neighbours. It's so important to remember of powerful an act of kindness can be during these difficult times. It may be small, but could make a huge difference to someone that is struggling. Well done Tom!
Will: Will has completed his theatre notes on Blood Brothers. He has been working hard to make them specific and analytical. Well done.
Brandon has completed work ahead of schedule
Mrs Parnaby's Year 11 English Group
Oliver, Harry and George are working hard on their English Language and showing excellent work ethic and determination. Well done.
Year 12
Sian: Sian completed an excellent business test on finance. She is motivated and using her time well.
Year 12 A Level English Language:
Eleanor has completed a detailed response to marking for two marked essays.
Tom, Charley, Aine and Rachel have completed some great work on discourses comparisons.
Charley, Natalie, Evie, Lily, Sam, Oli, Charlotte, David, Maddie, Aimee, Rebecca and Grace have been nominated by Ms Sumner for being proactive with their NEAs. They're all working independently to explore their chosen novels and criticism.
Laila, Emma, Holly, Eleanor and Vicky have creatively worked as a virtual group in response to English tasks set
Ben has displayed a wonderful work ethic
Year 13
Iraj: Iraj scored excellent results on past papers in Business. Well done for being motivated and focused.
Ellie: Ellie scored excellent results on past papers in Business. Well done for being motivated and focused.
Harry: Harry has completed some excellent law work this week and remains positive and focused.
Aisling and Helen have completed work well ahead of schedule through focus and determination
Year 13 English Language:
Henry and Grace have completed their NEA coursework for A Level English Language ahead of the deadline given.
Alex, Karly, Amina and Ross have also now completed their NEA coursework for A level English Language.
Mr McWatt's students:
Isaac: Brilliant effort with the Scratch program His program converts denary into binary and he has been set the challenge to now convert binary into denary!
Lena: A number of excellent tasks completed from the Nandos' menu, a brilliant effort with no errors, well done! Mr McWatt also enjoyed reading about her thoughts and opinions about robots and digital humans.
Mrs Woods' Year 8 student artwork: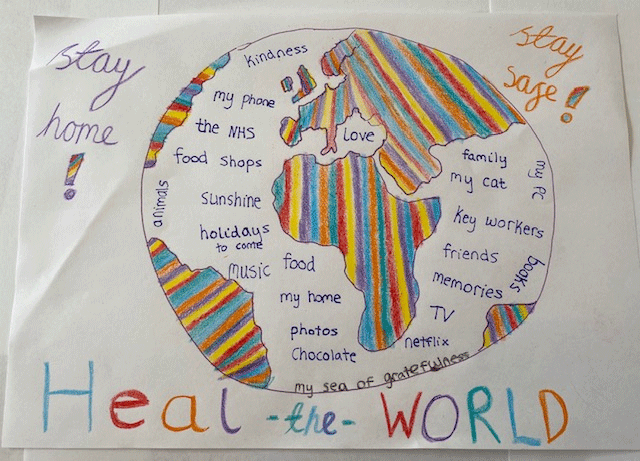 Ms Titchfield says:
Evie in my Year 10 GCSE Textiles has photographed her portfolio to create a powerpoint so that I can give her feedback (see image below). She has created some lovely work. Ethan in Year 7 has already emailed me his wonderful apron designs and I've given him praise and feedback. Also, Grace in Year 13 has photographed her Fashion Marketing sketchbooks so that I can assess her unit and created multiple powerpoints as there is so much work. I'm very proud of them all and all their efforts!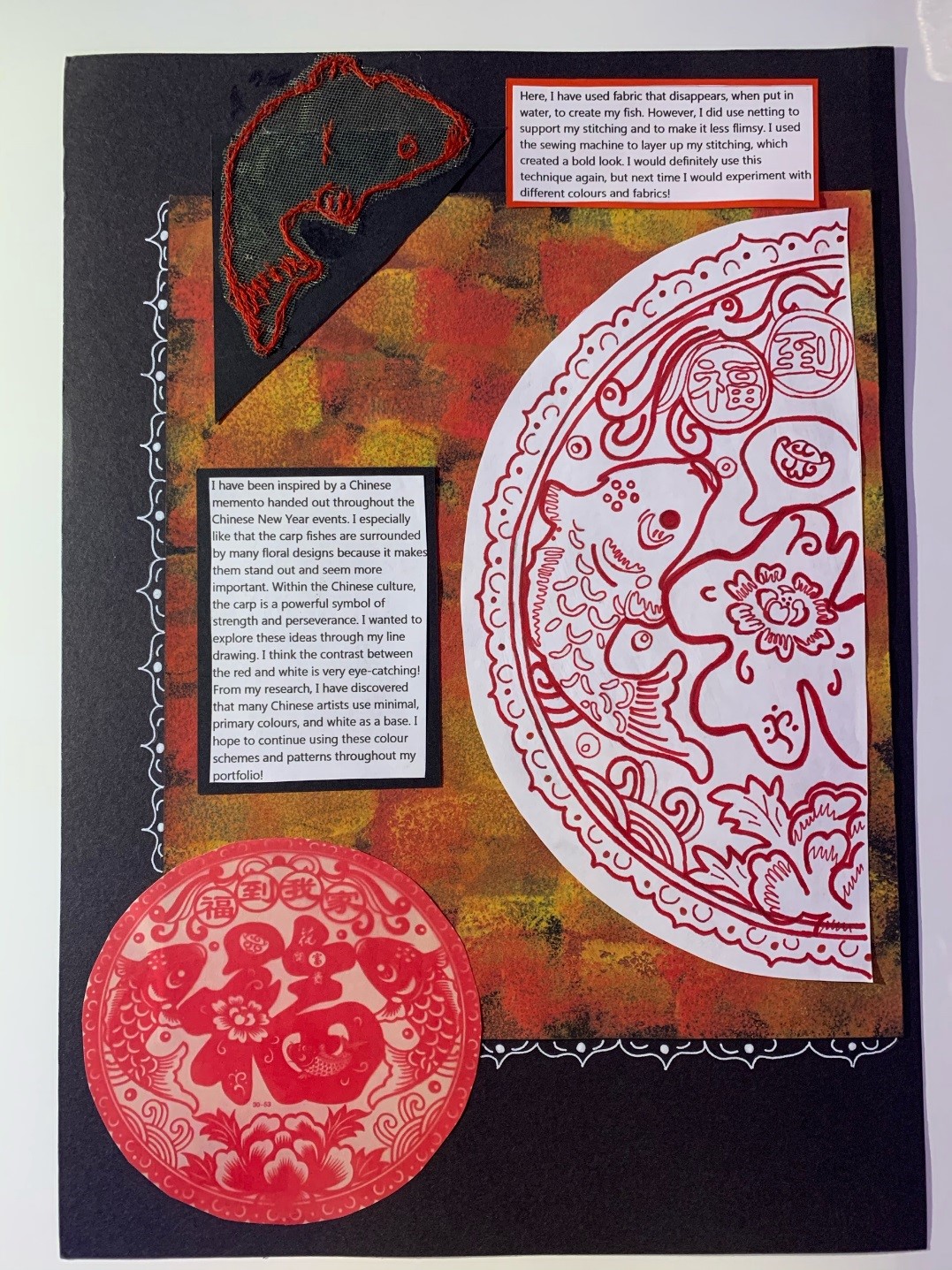 Thank you for all your hard work. You've brought smiles to all your teachers this week.
Look after yourselves and your families over the next week.
If you didn't see your name this time, don't worry, if you're working hard, your teachers will be nominating you! Keep checking the bulletins.
I look forward to celebrating more successes and positive comments with you next week.
Kind regards
Ms Murray