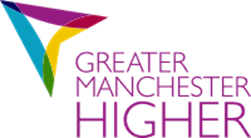 Altrincham College works closely with Greater Manchester Higher which is an impartial collaborative network, supporting young people to access aspiration-raising activities and awareness of all routes into Higher Education.
We recognise that the role of parents and carers is crucial in supporting your young person to access Higher Education so please look at the resources available to you including Parent Power podcasts: https://gmhigher.ac.uk/parents-and-carers/ The Parent and Carer guide is packed with useful information.
Resources for pupils: https://gmhigher.ac.uk/my-student-journey/ include videos from current Higher Education students in the know: Hear what students have to say - GM Higher
The Young Person's Guide to Higher Education includes tips on making your next steps towards higher education - college, apprenticeships, and university.
Curious about study options, Higher Education and student life ASK US! Connect with one of the friendly GM Higher team at any time: www.gmhigher.ac.uk/askus
GM Higher has invested in The Pay Index as a resource so it's free for our Year 9-13 learners and parents/carers to use. The tool simplifies a lot of the information around average salaries to understand the real cost of living after graduating or entering the world of employment.
You can now sign-up and access the tool, so you can be well-prepared to support and advise your child as they make important decisions.
Every student in Year 9 to 13 can create an account and explore The Pay Index in their own time, which we hope they will take advantage of.
Sign Up via: https://thepayindex.com/gm-higher/signup (In response to the question 'what year group are you in?' please select: 'Parent/Carer').
University & Me a Guide for young carers
University & Me a Guide for Care Experienced Students
University & Me a Guide for Learners with Disabilities