Hello everyone,
I hope you are all safe and well and managing to establish new routines. Hopefully your Easter was happy and fun. I'm sure it was very different from the Easter holidays that you've known in the past, but hopefully you managed to enjoy some chocolate treats.
As horrible and hard as this situation is, there are always positives to be found. I have been so excited to read about how nature is responding to lockdown. Sea turtles have laid millions of eggs in India and Brazil, pollution levels are dropping all over the world, and the environment is thriving. I even saw two stalks fly over when I was out running.....yes you heard right. I went running. Lockdown means I have no excuses anymore!
Once again, so many of you have been working with great enthusiasm and self-motivation. Your teachers are very impressed with your efforts and want to recognise your hard work. Please check for your name below, as we celebrate your success!
Oscar 7.2 -Oscar created some fab CAD designs for a school apron. Mrs Gates was very impressed.
Oscar also submitted a fantastic piece of work in Science. This was new content so you clearly had to research this information using the list of things to do on the project brief. Miss Mitchelmore loved how clearly you have set this out.
Tayla, 7.2
Tayla has completed several pieces of work for Miss Greenhalgh. She's very impressed with your efforts.
Isabella and Amber-Louise have also been working really hard in English.
Mushahid, 8.2 has been putting lots of effort into home learning.
Ethan But continues to impress Miss Greenhalgh with his effort and enthusiasm during these challenging times.
Paige, 8.3 - Paige is working her way through her Drama tasks. She is focused on her learning and motivated.
Quincent, 7.4 - Quincent in working really hard in English and putting lots of effort into his home learning tasks.
James, 7.4 - James has really impressed Miss Titchfield with his work from home. She was delighted with your recent work and the great effort.
James has also completed his English, skills builder, booklet to a high standard.
Daryna - Mrs Woods set year 8s a challenge of drawing her an image which represents their favourite movie or book. Here's Daryna's master piece! Mrs Woods guessed right with Mulan: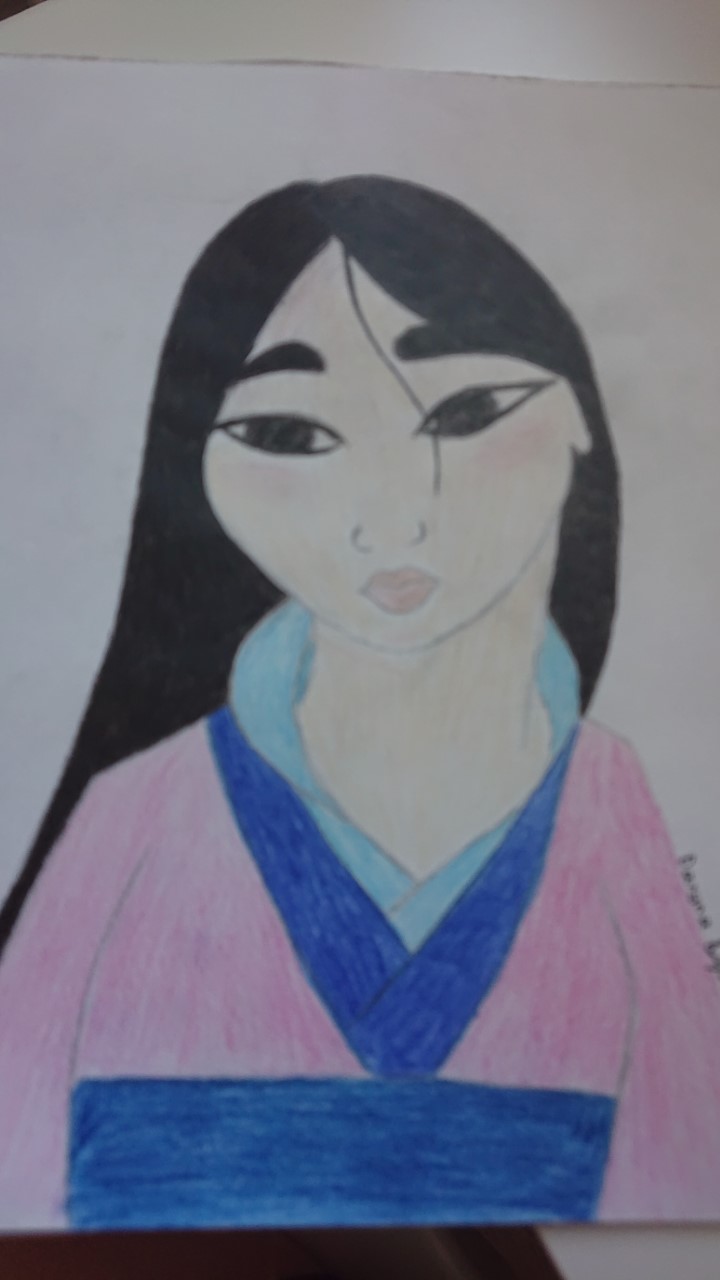 Diana, 8.2 - Diana has worked hard to complete her English skills builder booklet. She has put a lot of effort into completing tasks.
Aimee, 7.2 - Aimee has completed her English skills builder booklet to a high standard. You've clearly worked very hard.
Lily, 7.2 - Completed some excellent vocabulary and spelling challenges.
Mrs Parnaby - English:
7:2
Aimee, Thomas and Lily - superb effort and great commitment to learning in their English work. Lily L wrote an engaging and focused play script for Drama. Her creative ideas and imagination were excellent.
Year 11
Max for working hard on his English Language and showing excellent work ethic and determination.
Year 12 (A level English Language):
Ella, Charley, Emma, Holly, Laila and Vicky for completing detailed response to marking of their discourse comparison essays.
Ben, Eleanor, Emma, Holly, Laila and Vicky or working hard and completing the weekly accent variation video challenges
Year 13:
Lara and Mya for completing their A level English Language coursework.
Ms Mathers - History:
Following on from reading a fictional story 'Burning Issy', Ms Mathers set the task of watching a TV documentary on the true story behind the fiction. Year 10 pupils were then asked to write their own short story. Terri and Isabel wrote detailed and impressive responses. Ms Mathers was very impressed.
Ke - Ke Xin has completed her English skills builder booklet and has been working hard at home.
Daisy, 7.1 - Daisy has completed some fantastic Drama work on staging.
Ali, 8.3 - Ali has started to use his free time to draw pictures like these: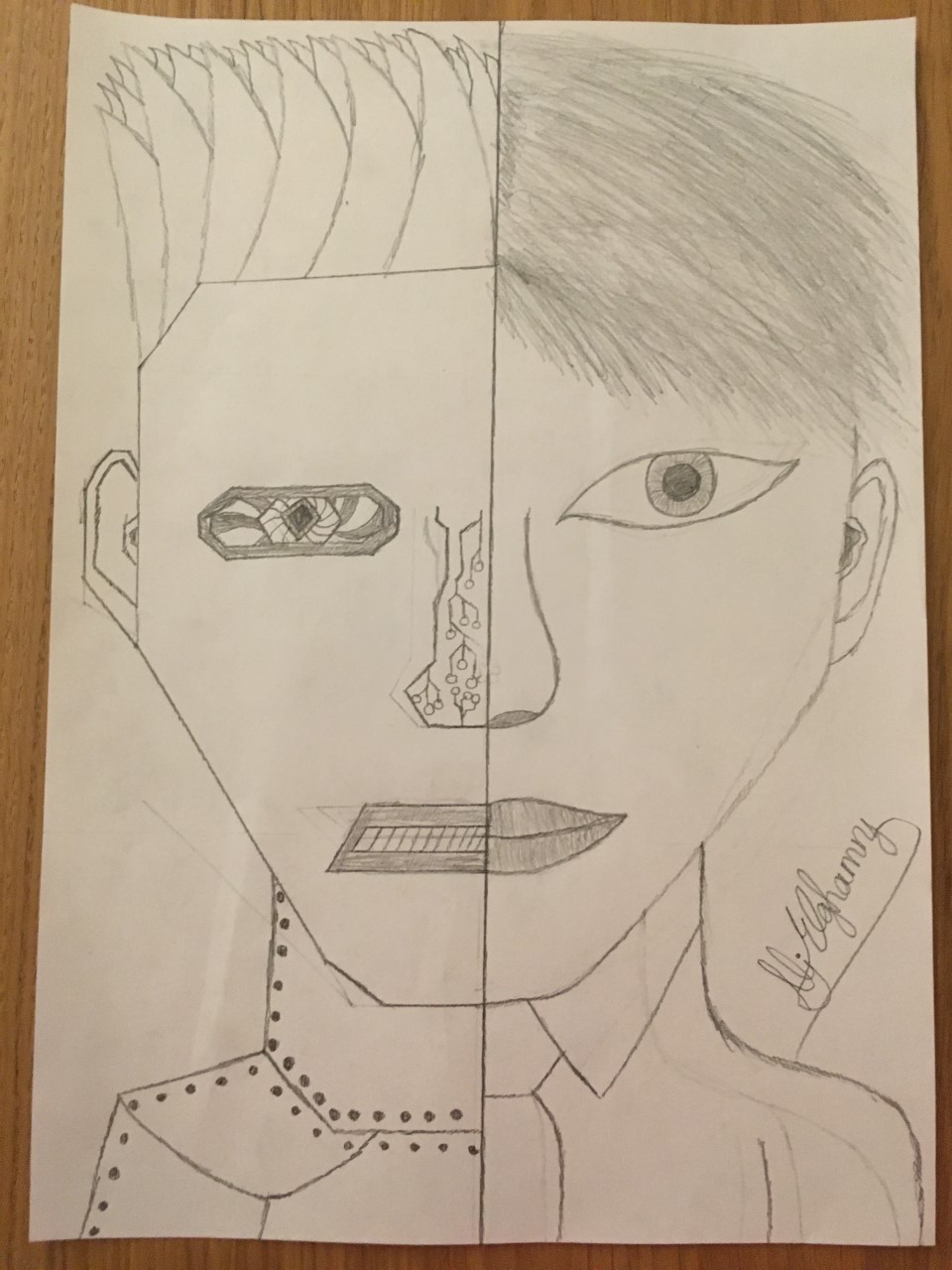 This one represents how humans are so attached to technology that they are starting to turn into it. It shows their human side and the technological side. Very creative and thought provoking!
Oliver - An excellent Theatre review and chose to watch the full production rather than the minimum amount.
Callum - Excellent drama responses, with creative and thoughtful interpretations.
Mrs Hardy:
Mrs Hardy is delighted with Tayla and Maddie. They have created some excellent Geography presentations.
Mr Whittam:
Leo has gone above and beyond in his Science work over Easter. Mr Whittam is very impressed.
Miss Higgin:
Isaac has completed a mini project on variation and has sent Miss Higgin a family tree detailing the eye colour of his parents, grandparents, aunts and uncles, cousins and siblings.
Grace has completed some science skills tasks showing excellent understanding of pie charts.
Mrs Hodson:
Year 7: Last week, Kai and Alfie watched some videos to help with their assessments, Erin chose to attempt the assessment for a second time to improve her score, and Fatima practiced some extra questions.
Year 8: Talya spent a huge amount of time and effort last week watching videos and practicing questions ready to complete the assessment on Mathswatch, which she then chose to attempt for a second time to improve her score (which she nearly doubled)! Adam spent a good deal of time last week watching videos in preparation for the Mathswatch assessment.
Year 9: George spent time and effort completing the Mathswatch assessment last week.
Year 10: Millie and Charlotte spent a good amount of time and effort completing the Mathswatch assessment last week and Emma watched some extra videos after completing the assessment as intervention/revision.
Year 11: Maisie has completed all of the revision booklets handed out for Maths revision which is fantastic effort and great to see her determination continue even while not in school!
Well done to everyone who was mentioned!
Remember, "Tough times never last, but tough people do." There is always a positive, no matter how hard this situation might be. Hopefully we will use this time to reflect and learn about our behaviours as humans. We are being given the chance to make positive changes to our habits and protect our world.
Stay safe.
Ms Murray