Headteacher's

End of Year

Bulletin
Dear Parents and Carers,
As another year draws to a close I would like to thank you and your children for ensuring this has been another great year! We have much to celebrate and have enjoyed great learning and fun events and activities across a wide range of areas. I would also like to thank my staff for giving their utmost every day for the benefit of our students and their families!
I like to say that "good endings make good beginnings" and it's safe to say, our Y13 and Y11 students certainly had a wonderful end to KS5 and KS4 respectively! We wish them all every success in their next steps and their 'new beginnings'. I am delighted that they are all pursuing their interests and passions, not only in our Sixth Form but also in universities, colleges and through apprenticeships in our area and across the UK!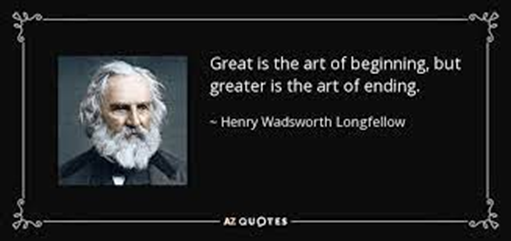 Expansion of our school
We are a year on since we were approached to expand our school. As you know, no building work has even started yet but site surveys have been completed and some draft designs for a small new build and upgrade to existing buildings have been completed. There is an enormous amount of 'red tape' to get through as the school is on a Green Belt and therefore any build, however small, needs to get Planning approval. This is where things currently stand.
I have therefore convinced the Council that the school absolutely cannot consider taking more students in September 2024 as the work will not be completed. At the moment it is estimated work may start in Dec/January. They have therefore agreed that the increased admissions number in Year 7 (from 175 currently going up to 235) will be from SEPTEMBER 2025. Thank you for your support during this time.
"Leaving Year 11" Assembly
It was wonderful to welcome back from Study Leave our Year 11 students for their last assembly as a full cohort. Following a demanding examination period, pupils had an opportunity to say goodbye and thank you to each other and their teachers, which was a joyous and emotional occasion. A formal assembly in the hall included performances from talented musicians within the year group, messages from form tutors and other staff and various images of their time at Altrincham College were shared.
| | |
| --- | --- |
| | |
| | |
We would like to wish anyone leaving us the very best of luck for the future and we look forward to seeing most return to our Sixth Form in September.
Year 11 Prom
On Friday 7th of July, over one hundred leavers and 35 members of staff enjoyed a very glamorous Y11 prom. All attendees enjoyed a delicious 3-course meal, along with plenty of dancing and laughter. Student and staff awards were also welcomed by the winners of the respected categories, with Malachi winning best dressed pupil and Kameron the best hairstyle. The evening was a real success and a fitting send off to our class of 2023. Thank you to Head of Year, Mr Hughes for organising the event!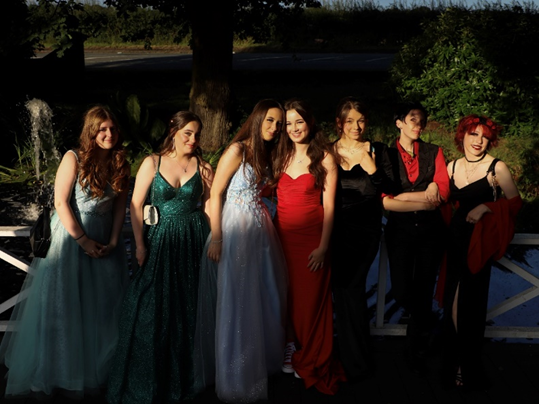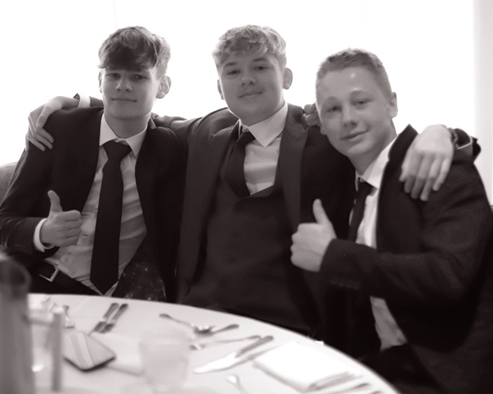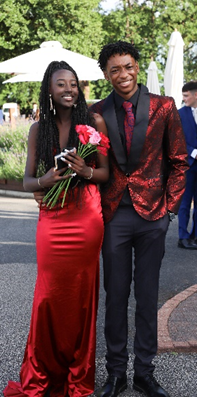 Please visit our school's Facebook page to see more photos: www.facebook.com/AltrinchamCollege
Year 13 leavers' assembly
The Year 13s gathered together one last time for a special leavers' buffet, followed by a celebratory goodbye assembly. Wearing their Leavers' 2023 hoodies with pride, the students received certificates for many of their fantastic accomplishments whilst being a student at our Sixth Form. For many of them, this date marked the end of a 7-year educational journey at Altrincham College, and there were a few tears! Thank you to Mrs Brennan and the Sixth Form Team for making this so special!
Our Year 13 cohort have been a fabulous bunch, whom we will greatly miss. We wish you all every luck for the plans that we know you have for your next steps; whether its moving on to university, which is the case for the vast majority of you, or onto an apprenticeship or full-time job….see you on Results Day (17th August)!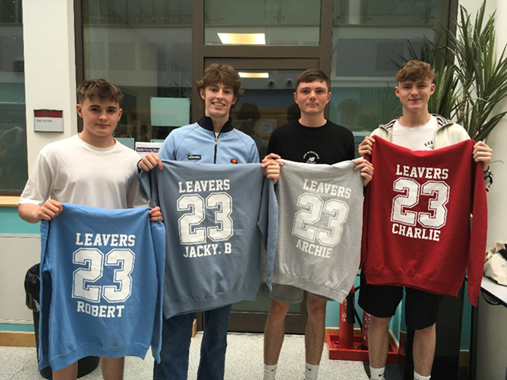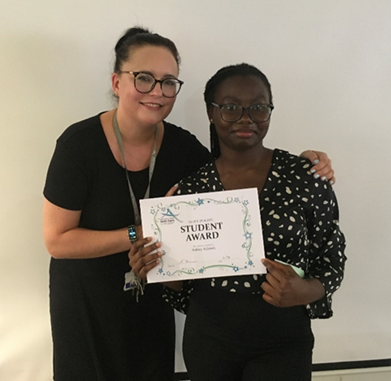 Sixth form student wins University of Oxford Essay Competition!
Many congratulations to Year 12 student Harriet A who entered the University of Oxford's 2023 "Big Oxplore" essay competition and won the Year 10-13 category!
Read her winning essay here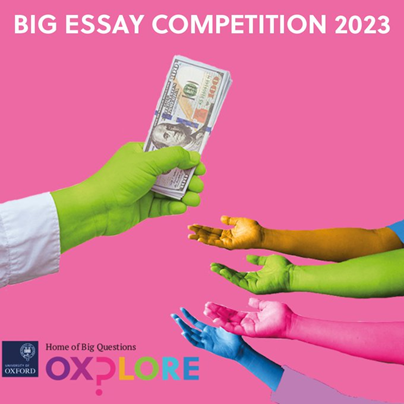 Fresh Start Programme
The main school Learning Resource Centre saw an exciting event last week as a group of Y7 students were rewarded with a celebratory breakfast, to which they invited members of the Senior Leadership Team.
This fantastic group of Y7 students have been working hard this year to complete the Fresh Start programme, developing fluency, accuracy and comprehension in reading skills. All thirteen of the students have not only successfully completed the programme, but have made excellent progress in other skills too. These have included speaking in public, which was put to the test when they read to their invited SLT member - and tested the SLT on their phonic awareness, too! Huge congratulations to all our FS graduates!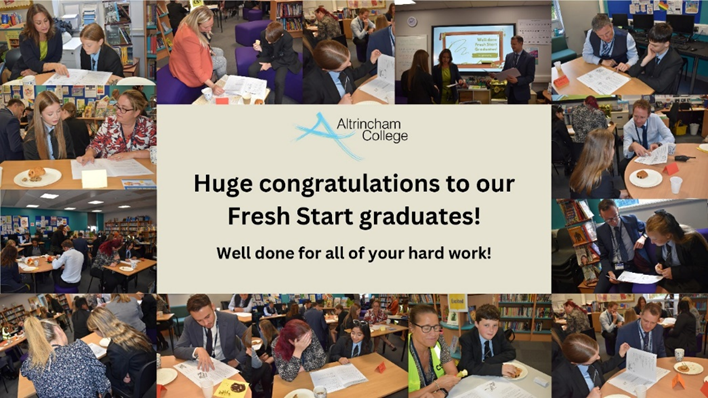 Year 8 residential
We took 74 Year 8 students to PGL Boreatton Park, Shropshire on an action-packed adventure holiday this term! The students and staff took part in a number of different activities such as: rock climbing, kayaking, giant swing, archery, challenge course, buggy building and more. The residential was thoroughly enjoyed by all and was an amazing experience from start to finish! The students were excellent and really got involved in everything; they have come away with many happy memories! Thank you to Mrs Wagstaff and all staff who accompanied this trip!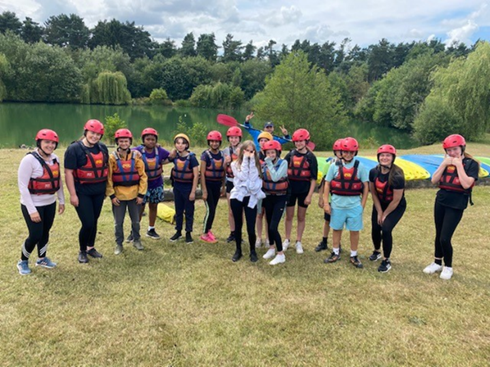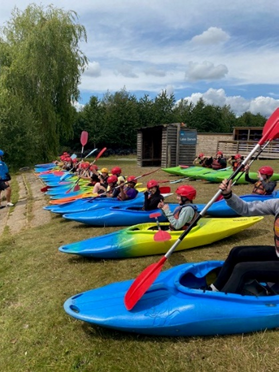 Altrincham Festival – Saturday 1st July
We were delighted to be invited to perform at this year's Altrincham Festival. Our Year 9, Year 10 & Year 11 school bands all performed brilliantly and did the school proud. Thank you to Mr Madden and Mr Wilson for organising the performances, and to the staff, students and families who came out to show their support in spite of the wind and rain!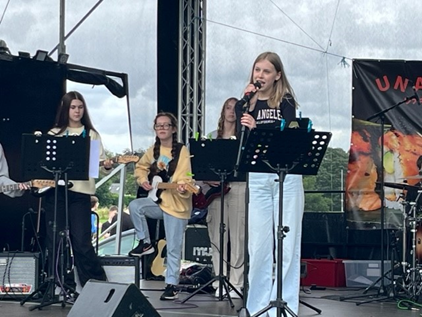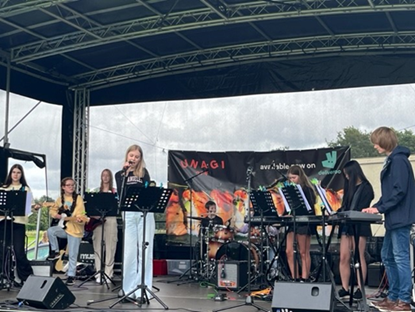 And staying with the Music Department, the Summer Concert which took place in school on Wednesday evening, provides a final opportunity to celebrate the Performing Arts at school, and the musical commitment and achievement of our students. We were entertained and enthralled by bands and soloists, singing, acting and dancing – by performers from across KS3 and KS4. There were performances from Enrichment Groups including Junior Band (Y7 & Y8), Musical Theatre Club (all Years) and Year 9 Band; and also our Y10 curricular ensembles for Music and Music Technology. Fittingly, Year 11 Band rounded the evening off with their signature Oasis song Don't Look Back in Anger – and pretty much the whole audience joining in with them!
Our thanks to Mr Madden, Mr Wilson and also Drama/Dance staff for organising the event!
ACPA
Our Parents' Association had a sale of pre-loved uniform this week! Lots of items were sold so I would now like to ask that if your child has grown out of their uniform, please donate items which are in good condition to the school in September! We are especially looking for school blazers please.
Thank you very much!
Success for PE Department

I am delighted to announce that we have achieved the School Games SILVER Award for the 2022/23 academic year!
The School Games Mark is a Government-led award scheme that rewards schools for their commitment to the development of competition across their school and into the community; we are delighted to have been recognised for our successes.
As part of our application, we were asked to fulfil criteria in the areas of participation, competition, workforce and clubs, and we are pleased that the hard work of everyone at our school has been rewarded this year. Many thanks to the PE Department for ensuring we achieved this award!
Year 7 Cricket Success!
AC 117 - 105 Ashton on Mersey
After Head Groundsman Mr White had prepared a green top for AC to take on AoM, AC were swift in deciding to bowl first after winning the toss.
AC took advantage of this with some great line and length bowling including Joel, picking up a great wicket nicked off which was well held by Will. AC also picked up a couple more wickets before the end of the innings as AoM struggled to get the ball away to the boundary in part to a great fielding effort from AC. This left AC chasing 105 to win the game (both teams start on 100, losing 10 runs for every wicket).
AC came out of the traps fast as Ethan, quicky dispatched a couple of sixes over cow corner. This momentum was maintained by Calvin and Archit (who led the team fantastically with bat, bowl and marshalling his fielders). AoM hit back with a couple of quick fire wickets with Ryan and Joel facing their most hostile bowlers. With two batting partnerships to come, Tom and Max looked to have steered the team to a comfortable win but some rash decision-making between the wickets led to a run out.
It was left to Jamie and Luca to see the match out knowing that victory was ours if they could avoid any dismissals. After playing the 1st couple of balls confidently Jamie channelled his inner Geoff Boycott and soundly blocked off the last 4 balls of the innings, as the AoM team began to surround the bat, to lead AC to a 12 run victory.
The match was played in great spirit and we only had to endure a small amount of rain on a quintessential 'summers day' of cricket.
Well done to everyone for taking part:Tom D, Luca M, Max R, Ryan N, Jamie W, Skye F, Joel T- R, Will C, Renars J, Ethan K, Archit S and Calvin J.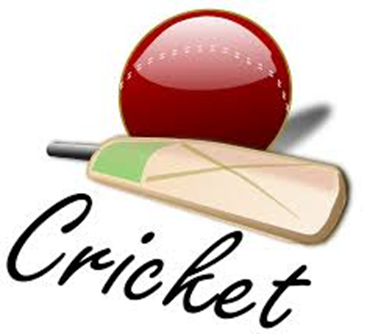 And staying with theme of cricket, Thomas B in Year 10 has just been selected to play for the Cheshire District Cricket Team! Congratulations Thomas from everyone at AC!
Summer Prizegiving Evening 2023
This year's prizegiving event was a really happy, celebratory evening where students from across all year groups were recognized for their achievements in areas that we as a school and as part of the South Manchester Learning Trust hold dear.
Amongst many other certificates and prizes, the four Headteacher Awards were presented again by myself and the three former Headteachers of our school including Miss Stoller who is about to celebrate her 101st birthday!
Ms Earle's Apex Award for students who embrace every aspect of provision at our school from the classroom and beyond. The winner was Mahdiyah M in Year 12.
Peter Brooks Award for Resilience for those who succeed in the face of adversity. The winner was Haile T in Year 9.
Margaret Lloyd Award for Community for striving to make our community a better place. The winner was Billy C in Year 9.
Ruth Stoller Award for Performing Arts for excellence in their field. The winner was Katherine (Kit) R in Year 8 for her outstanding performance in "We Will Rock You".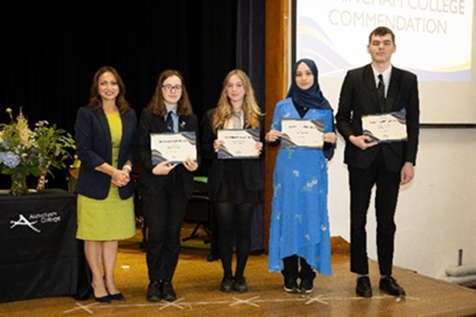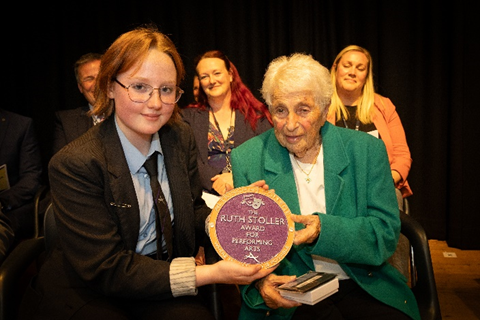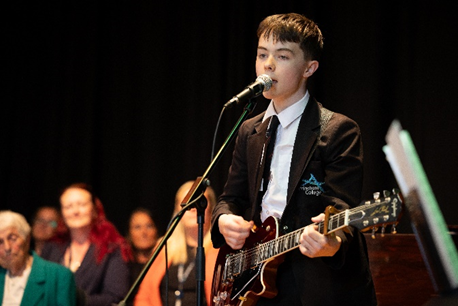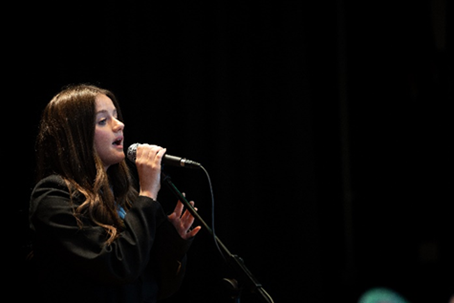 Sports Day photographs
| | |
| --- | --- |
| | |
| | |
You said, we did
We would like to take this opportunity to extend our heartfelt thanks for your active participation and valuable input in our recent "Stakeholder Voice" survey. Your engagement and feedback have played a crucial role in shaping the future of our school, and we are immensely grateful for your contribution.
At Altrincham College, we believe that collaboration between parents and carers is vital in creating a nurturing and supportive environment for our students. Your responses have provided us with valuable insights into your experiences, perspectives, and expectations. We are pleased to inform you that we have carefully reviewed each and every comment, suggestion, and concern expressed. Your feedback is being used to identify areas of improvement and implement necessary changes to enhance our school policies, and practices.
In response to your valuable input, we would like to assure you that we have already initiated several actions to address certain concerns raised and capitalise on the opportunities highlighted. Some of these can be seen in the tables below:
Student Voice
| | |
| --- | --- |
| You said... | We did... |
| "The queue time for the toilet is sometimes too long". | Re-opened the new build toilets so students have access to more toilets at break and lunchtime. Students can now use the new build toilets or the toilets in the Maths block. This will reduce any queue time. |
| "Some of the locks on the toilet doors are damaged". | The site team have repaired or replaced any/all broken locks. All toilet doors now have working locks. |
| "The gate at the front of school is sometimes not opened until 8:30 so students are waiting outside in the morning". | A new duty member of staff has been assigned to ensure the gate is opened each morning at 8:15. This will allow students to come into school and access breakfast club in the main hall earlier. |
Parent/Carer Voice
| | |
| --- | --- |
| You said... | We did...We will... |
| "Communication on what was being learned each half term was not clear enough". | For September 2023, the school website will be updated to signpost what is being taught each half-term for each year and subject. |
| "Communication from teachers after leaving messages was not always timely or forthcoming". | Reinforced clear guidelines and expectations for staff when communicating home (acknowledgement/contact to be made within two working days). |
| "Access to toilets is of concern". | The site team have repaired and/or replaced all damaged locks on toilet doors. More toilets in our new-build area of the school have been opened. During lessons, students with toilet passes or in an emergency have access to the toilet. |
Year 11 Artist keeps drawing!
Hazel L in Year 11 may have completed all her GCSE exams but if you're a real artist, the drawing doesn't stop there! Here is some work by Hazel produced this Summer – what an amazing talent and determination to create such a detailed piece of work! Wow!
Hazel also won one of the Lloyd Art Prizes this year – we are looking forward to seeing what she can produce in our Sixth Form next year!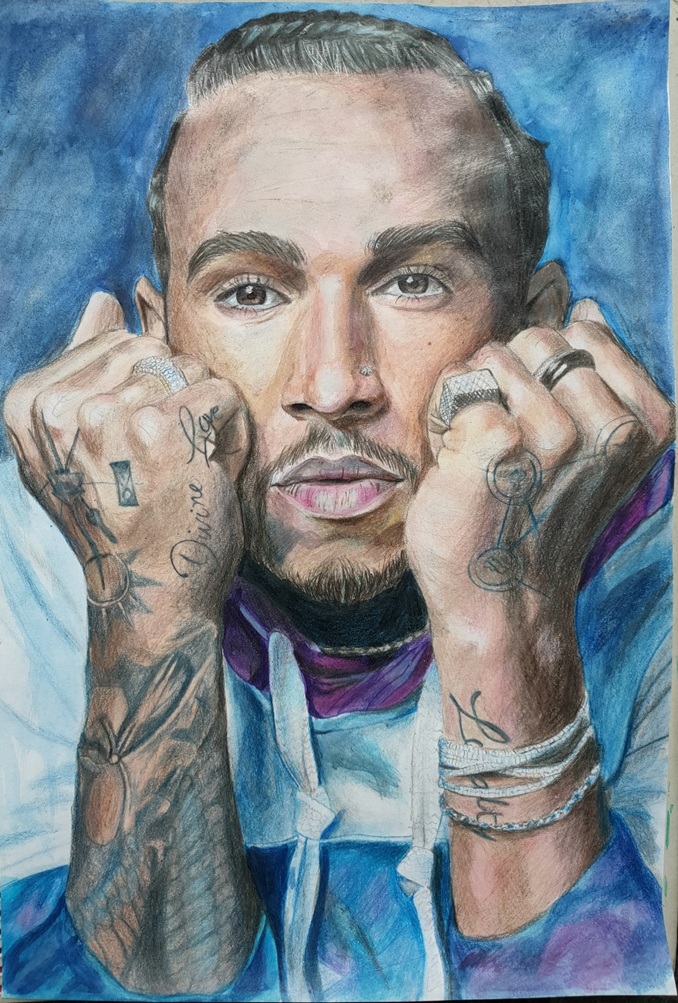 Student Stars of the Month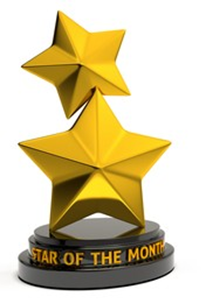 Student Star of the Month nominations were for CONSISTENTLY going over and above, as chosen by members of staff. This month all nominees all took part in Hot Chocolate Friday with the Headteacher and all were STARS!! They were:
Year 7
Seb S

Will H

Ellie P

Hannah C
Year 8
Year 9
Year 10
Year 12
Well done to all of these students – you are role models for your peers!
Safeguarding News: TikTok
Please see the document at the bottom of the page for information regarding Tik Tok users. Thank you.
---
I would like to thank you for all your support this year in ensuring your child comes to school, on time, in full school uniform and ready to learn. This has meant there is much to celebrate as we go into the summer holidays with regards to both their academic achievement and their personal growth.
We return to school, refreshed and having had a good break, on
Tuesday 5th September 2023
(Staff INSET Day on Monday 4th September)
Dates for the Diary:
Thursday 17th August 2023 A-Level Results Day
Thursday 24th August 2023 GCSE Results Day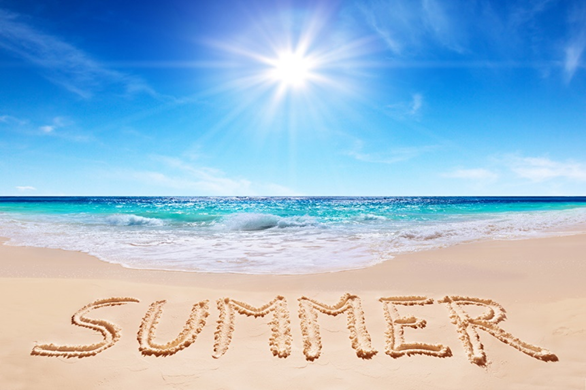 Ms K Earle
Headteacher