Dear Parents and Carers,
As you know, I have been called for Jury Service from Monday for two weeks taking me to the end of term. Whilst I understand the importance of this, the lead up to Christmas in school is one of the best times of the year and I will be sorry to miss this! However my Senior Leadership Team and all the staff will continue to ensure your child is in safe hands as always, during my absence!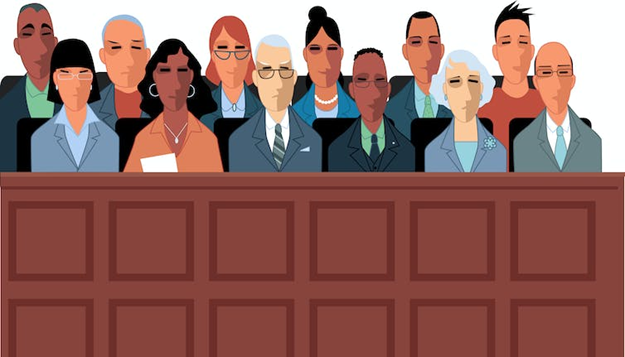 Before we break up, I would like to draw your attention to the news stories on the increasing use of e-cigarettes or 'vapes' amongst teenagers. The following information should give you an insight into the dangers of 'vaping' and I would be grateful if you would discuss this with your child at home. E-cigarettes are NOT harmless! Please do not allow them to convince you they are, and also, please do not buy them for your child; we are aware of a few cases in school where this has happened.
E-cigarettes are banned from school and if caught vaping in school, outside on the premises or on the school bus and this is reported to us, students will receive a fixed term suspension.
Vaping in Adolescents
E-cigarette use poses a significant – and avoidable – health risk to young people. Besides increasing the possibility of addiction and long-term harm to brain development and respiratory health, e-cigarette use is associated with the use of other tobacco products that can do even more damage to the body. Even breathing e-cigarette aerosol that someone else has exhaled poses potential health risks.
Brain Risks

The part of the brain that's responsible for decision making and impulse control is not yet fully developed during adolescence. Young people are more likely to take risks with their health and safety, including use of nicotine and other drugs. Youth and young adults are also uniquely at risk for long-term, long-lasting effects of exposing their developing brains to nicotine. These risks include nicotine addiction, mood disorders, and permanent lowering of impulse control. Nicotine also changes the way synapses are formed, which can harm the parts of the brain that control attention and learning.
Addiction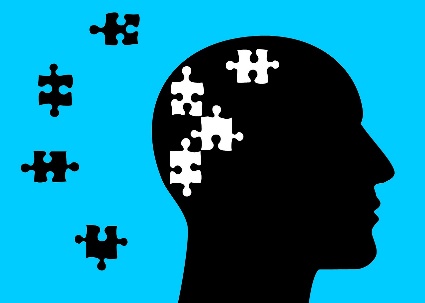 How does the nicotine in e-cigarettes affect the brain? Until about age 25, the brain is still growing. Each time a new memory is created or a new skill is learned, stronger connections – or synapses – are built between brain cells. Young people's brains build synapses faster than adult brains. Because addiction is a form of learning, adolescents can get addicted more easily than adults. The nicotine in e-cigarettes and other tobacco products can also prime the adolescent brain for addiction to other drugs such as cocaine.
Behaviour Risks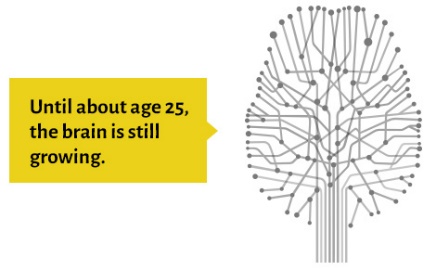 E-cigarette use among youth and young adults is strongly linked to the use of other tobacco products, such as regular cigarettes, cigars, hookah, and smokeless tobacco.
Some evidence suggests that e-cigarette use is linked to alcohol use and other substance use, such as marijuana. And certain e-cigarette products can be used to deliver other drugs like marijuana.
Use of Two or More Tobacco Products
Some people have suggested that use of e-cigarettes by young people might "protect" them from using cigarettes. There is no evidence to support this claim. Some studies show that non-smoking youth who use e-cigarettes are more likely to try conventional cigarettes in the future than non-smoking youth who do not use e-cigarettes. And among high school students and young adults who use two or more tobacco products, a majority use both e-cigarettes and burned tobacco products. Burned tobacco products like cigarettes are responsible for the overwhelming majority of tobacco-related deaths and disease in the UK.
Aerosol and Other Risks
The aerosol from e-cigarettes is not harmless. It can contain harmful and potentially harmful chemicals, including nicotine; ultrafine particles that can be inhaled deep into the lungs; flavouring such diacetyl, a chemical linked to a serious lung disease; volatile organic compounds such as benzene, which is found in car exhaust; and heavy metals, such as nickel, tin, and lead. Scientists are still working to understand more fully the health effects and harmful doses of e-cigarette contents when they are heated and turned into an aerosol, both for active users who inhale from a device and for those who are exposed to the aerosol secondhand. Another risk to consider involves defective e-cigarette batteries that have been known to cause fires and explosions, some of which have resulted in serious injuries. Most of the explosions happened when the e-cigarette batteries were being charged.
Thank you very much for your support in this matter.
When the Water Went Off!
Thank you very much for your support and that of close relatives when we had to close school due to having NO WATER! This stopped all food preparation and toilets/handwashing facilities were unavailable.
Staff all put their hands to the grindstone to facilitate a safe and speedy exit for students and one of our school bus drivers even came back to see if he could get any more students home again. Thanks to everyone for their help!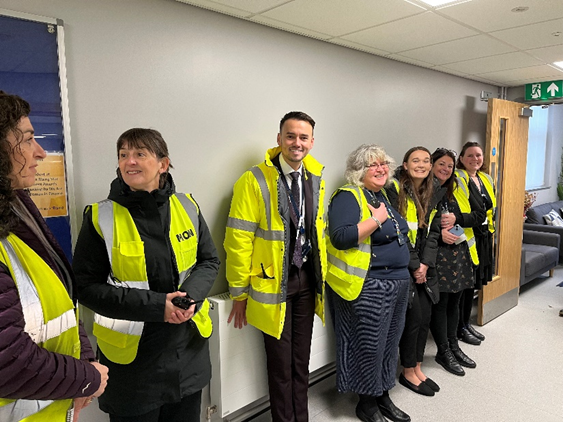 Remembrance Day, Friday 11th November
We marked this important day with words from myself, Head Student Daryna (who read a poem composed by herself and another student) and Mr Gillan our Head of History. We observed a minute's silence at 11am across school. This was followed by the laying of a wreath in the History block to commemorate those who had lost their lives in all wars past and present.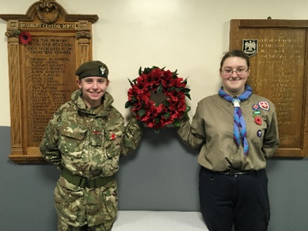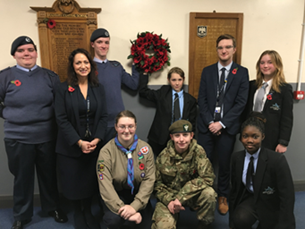 Throughout November in main school LRC, we remembered those who gave their lives as a result of war with a range of both fiction and non-fiction books, tasks and activities. Students and staff made commemorative poppies for displays.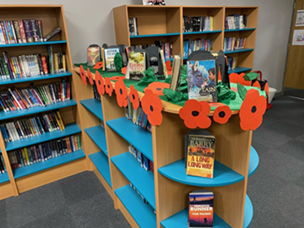 Presentation on Medicine for Year 11 & 12 students
Ms Diffley's son, Tom, who is a third-year medical student, spoke to our Year 11 and 12 students who are interested in medicine and dentistry. He advised them how to prepare for their university applications, and also talked openly about how he copes with the demands of his studies with caring for very sick patients.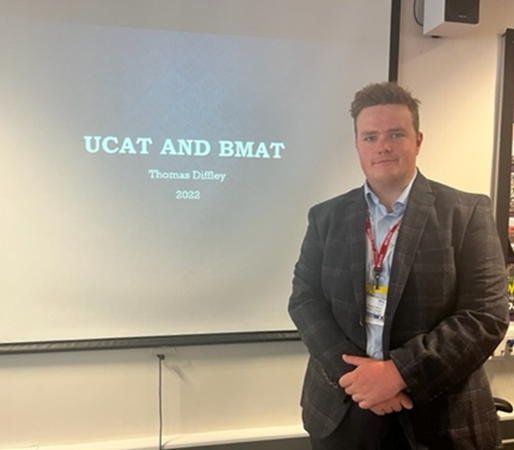 Diya in Year 11 said, "It was very useful and provided with an in-depth insight of what to expect from this profession. By including both the pros and cons of the career, the talk made me see it in a different spotlight. Tom also provided with some really useful information about medical ethics and the books one can read like 'This Is Going to Hurt'. The talk fuelled my ambition to pursue a career into dentistry/medicine."
Our Youth Parliament Candidate!
Billy C in Year 9 spoke at the House of Commons for Youth Parliament last month! Billy had a great trip to London. He had the opportunity to speak in the House of Commons and did amazingly well. His family and all of us here at AC are so proud of him! Since being introduced to the Youth Parliament by Mr Keegan over a year ago now, he's embraced it and shown a real commitment to his role.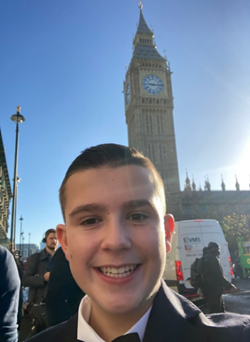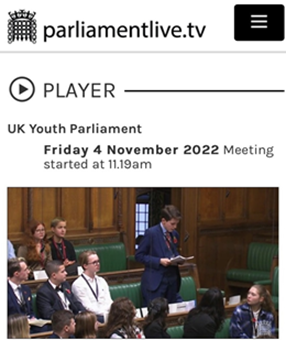 British Youth Council Focus Group
Juri S in Year 11 represented our school on the British Youth Council this half term! She says: Recently, I applied to take part in a focus group in London held by the British Youth council where only a select few people are chosen to debate and discuss a certain topic. Happy to tell you I got accepted!! And I'll look forward to representing our school in London hopefully this December! Well done Juri – thank you for doing us all proud!
PwC Careers Talk
Many thanks to representatives from Pricewaterhouse Cooper for delivering a career talk about opportunities at PwC to our students in Year 11-13 who are interested in Business, Technology & Maths.
They shared information about this great opportunity for our young people:
https://www.pwc.co.uk/careers/early-careers/our-programmes/insight-weeks.html
Anti-bullying week w/e 14th November
Students and staff wore odd socks to mark the start of this week and I conducted a series of assemblies with Mr Keegan. Thanks to everyone's efforts, a total of £492.80 was raised for Anti Bullying Alliance! Well done everyone! SPEAK OUT AND STAND UP TO BULLIES!
Uniform – grab a bargain!
Our schoolwear provider Monkhouse has put huge discounts on uniform and sports kit so you can save money on your shop this autumn. Be quick, offer expires 04/12/22.
Simply sign in or create your Monkhouse account to see your exclusive discounted prices on the Altrincham College uniform page.
Festive Market
ACPA have been absolutely brilliant this term! They have prepared preloved uniform items for resale in school and their organization of the Festive Market ensured a fabulous afternoon of festive fun on the 19th November! I would like to express my sincere thanks to our parents and carers for being involved in ACPA and to all our families who attended the market or ran a stall. Same time next year??!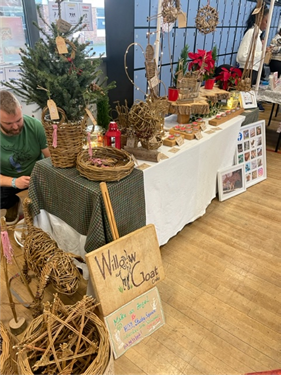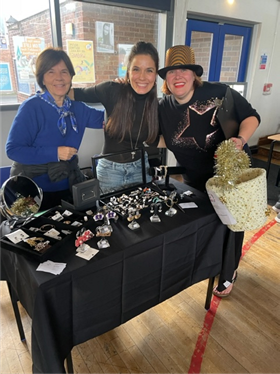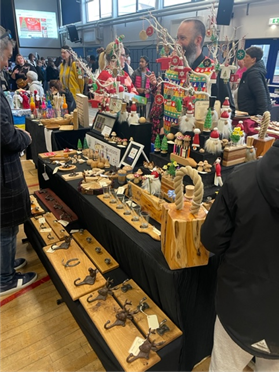 Languages 'mini morn' at Altrincham College
Mrs Casey writes: Last week the Languages department were delighted to welcome a fabulous group of mini linguists from Cloverlea Primary. It was a jam-packed morning with a range of activities from all around the world.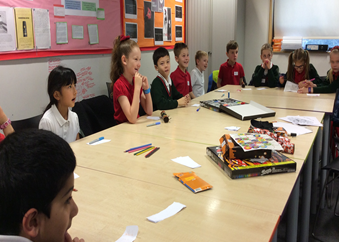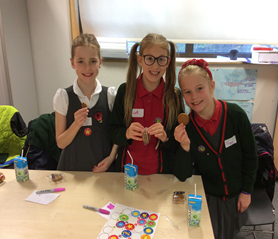 Students learned to say the days of the week in Spanish, how to count in Japanese and colours in Mandarin! Next, they learned about 'El día de los Muertos' and decorated 'Calaveras'. Finally, we finished the morning with Chinese calligraphy. The students had a marvellous time performing, playing and crafting!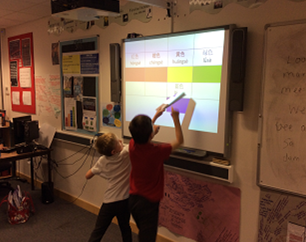 Sporting Successes!
Oscar R in Y10 has recently secured a place on Sale Shark's DPP for a second year. This is the Development Player Pathway. The purpose of the DPP is to promote your enjoyment in the game and develop core skills, game understanding and athleticism and support potential progression in the sport. The DPP is the first stage on the player pathway towards the professional game.
Oscar is very pleased! His Mum told us that he won't say anything to us in school but she is very proud of him and she wanted to let school know! We too are very proud of you Oscar! Well done! (Hope you're not too embarrassed by all this publicity!)
And now to football…..Erin-Beau C in Year 11 passed her Referee Course in the half term holiday, she is now a fully fledged under 18 Referee (and of course a lady Referee which is rare). Erin-Beau was the only girl on the course and worked with 20 boys and men which we think is a massive achievement in itself!
Erin's Mum said "This is again a huge testament to Altrincham College for giving her the skills and confidence to do so and we are super proud of her again!" Anthony Taylor had better watch out; she has designs on his premier league Referee job!
Food, Glorious Food!
Having completed a mini presentation skills practical with our GCSE Y10 classes Mrs South wanted to share some pictures of the amazing work that has been done!
Y10 students were asked to create a piece of art using Focaccia bread and a variety of different vegetables and herbs. The focus was on using their high-level knife skills to design and make a unique and creative Focaccia sharing bread.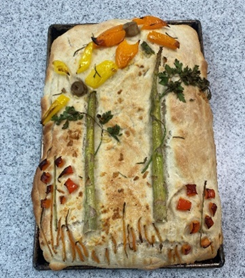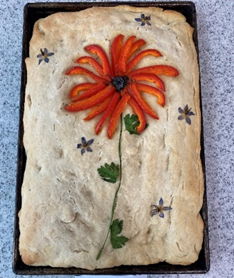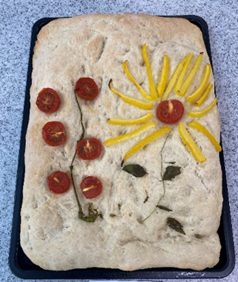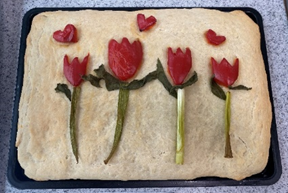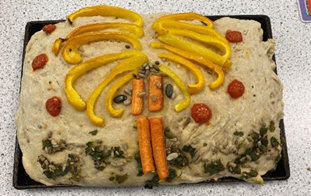 See some of the results for yourselves! Well done Year 10!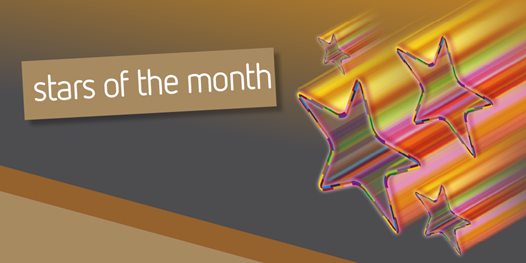 Student Stars of the Month were nominated by staff. Nominations for this were all the Drama students who took part in "A Play in a Day" workshop recently for representing our school so wonderfully, Danilo Z for supporting Mrs Casey with Mini Morn, the winners of the Kindness Award who received a selection box each - Teddy H Year 7, Kai T Year 8, Billy C Year 9, Lilly B Year 10 and Emma B in Year 11…and the winner is…..Theo L in Year 8!! Theo has been nominated by several staff for always being polite, kind and very resilient! Well done Theo – you are a brilliant role model!
Staff Stars of the Month went to staff who have been recognised by their colleagues for going over and above time and again! Whilst this does apply to all staff at AC, of particular note were Mr Guy, Mr Mahmood and Mrs Hudson-Kirkham, and pictured centre in bottom photo, Mr Stephenson! Well done from all your colleagues and THANK YOU from me!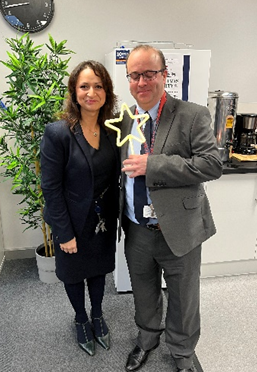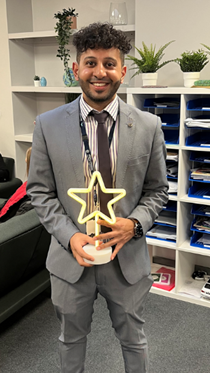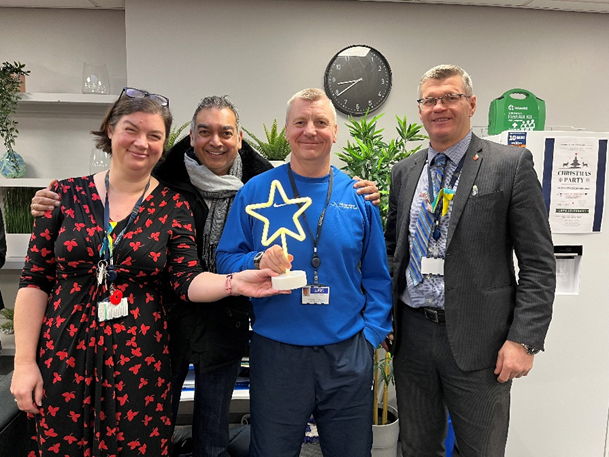 Also pictured with Mr Stephenson are three colleagues who are leaving us at Christmas to pursue new ventures. Mrs Shields (PA to Headteacher), Mr Miranda (Head of Art and Design) and Mr Kevan (Head of Geography). All three are stars in their own right! Mrs Shields has been at AC for 8 years, Mr Kevan for 20 years (he also taught Mr Moroney and Mrs Owen!) and Mr Miranda for 29 years! I would like to wish them every success as they move on and would like to sincerely thank them for their dedication and expertise over the years.
Don't forget "Festive Dress Day" on 14th December with all proceeds going to Save the Children charity, and you will soon be able to get your tickets for our Christmas Concert on 15th December at 6.30pm! Mr Madden, Mr Wilson and our hugely talented students are busy practising hard for this event. Come and get into the festive spirit with us!
I would like to take this opportunity to thank you for your continued support of our school.
I wish you and your families and wonderful Christmas and New Year! Students return on 3rd January 2023.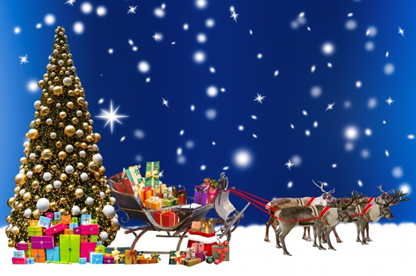 Ms K Earle
Headteacher