Headteacher's Bulletin, 27th May 2022
Dear Parents and Carers,
I am delighted to inform you that after our new arrivals from Hong Kong this term, who have been amazing students, we are soon to welcome three new Ukrainian students to our school!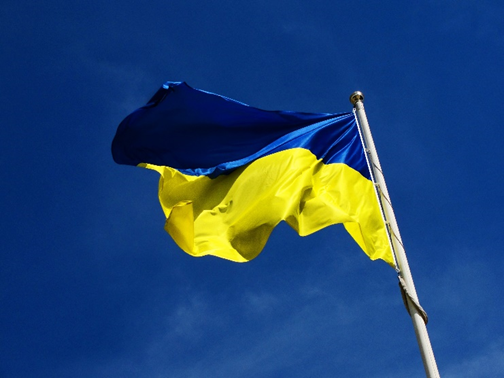 They will start with us after half term and I know everyone will soon make them feel part of our AC community!
This week, I'm starting with Stars of the Week and most importantly, our STUDENT STARS!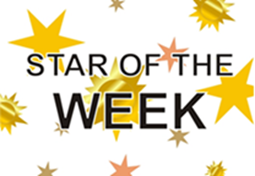 I really must congratulate all of Year 11 and Year 13 on their outstanding focus and conduct as formal exams get underway! You are doing a great job, keep it up! You are all Stars of the Week this week!
This week's Staff Star nominations were Miss Hjort, Mrs Court, Mrs Maher and the winner is…..Mrs Witchalls! Our Head of Year 8 and Teacher of Maths was nominated by Miss Whitworth (Head of Maths) after receiving a wonderful email from a former student who wanted to thank Mrs Witchalls for going over and above to get the best out of her students and for pushing her to secure a Grade A! Congratulations Mrs Witchalls!
Jubilee Prize Winners!
The winners of the Bake Off and Design a Postcard Competitions were awarded their prizes today (unfortunately two were absent from school – get well soon!).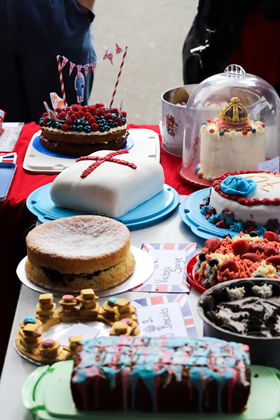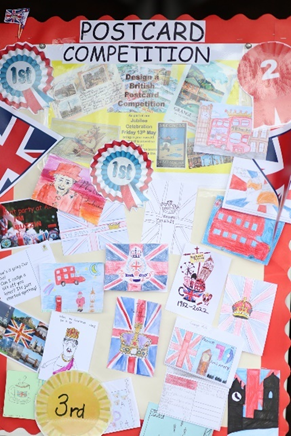 First Prize for both competitions was Afternoon Tea for Two at The Cloud and runners-up all received Amazon vouchers!
The winner of the Jubilee Postcard Competition was Lyra W in 7.2! A fabulous design, beautifully painted image of the Queen – well done Lyra! Second place went to Abi F in 8.5 for a wonderful image of a London bus and third place went to Danny S in 7.5 for a modern day political cartoon postcard! Wonderful stuff! Congratulations to all winners!
The winners of the Jubilee Bake Off were two boys who jointly made a wonderfully creative and also delicious Jubilee cake: Hallam B and Matthew P in 8.2! Second prize went to Oliver D in 7.4 for a tiered cake in the shape of a crown, beautifully decorated also! And third prize went to Aaryan A in 8.3! Aaryan produced a fabulous cake too! Well done everyone!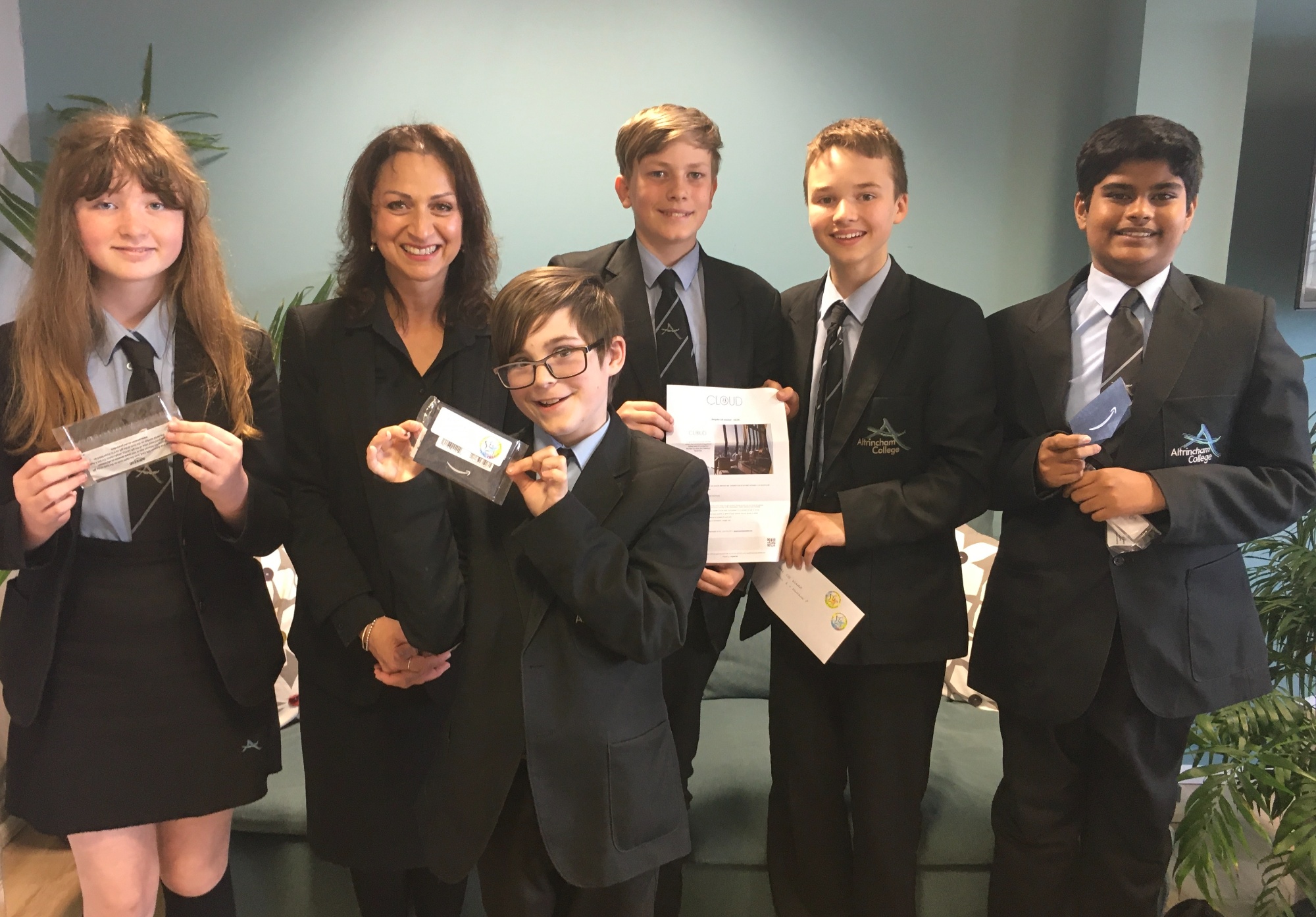 Mr Miranda's art class made a large scale stamp out of stamps! His father had collected stamps all his life and these were used in fond memory of him by our students. Doesn't it look wonderful?!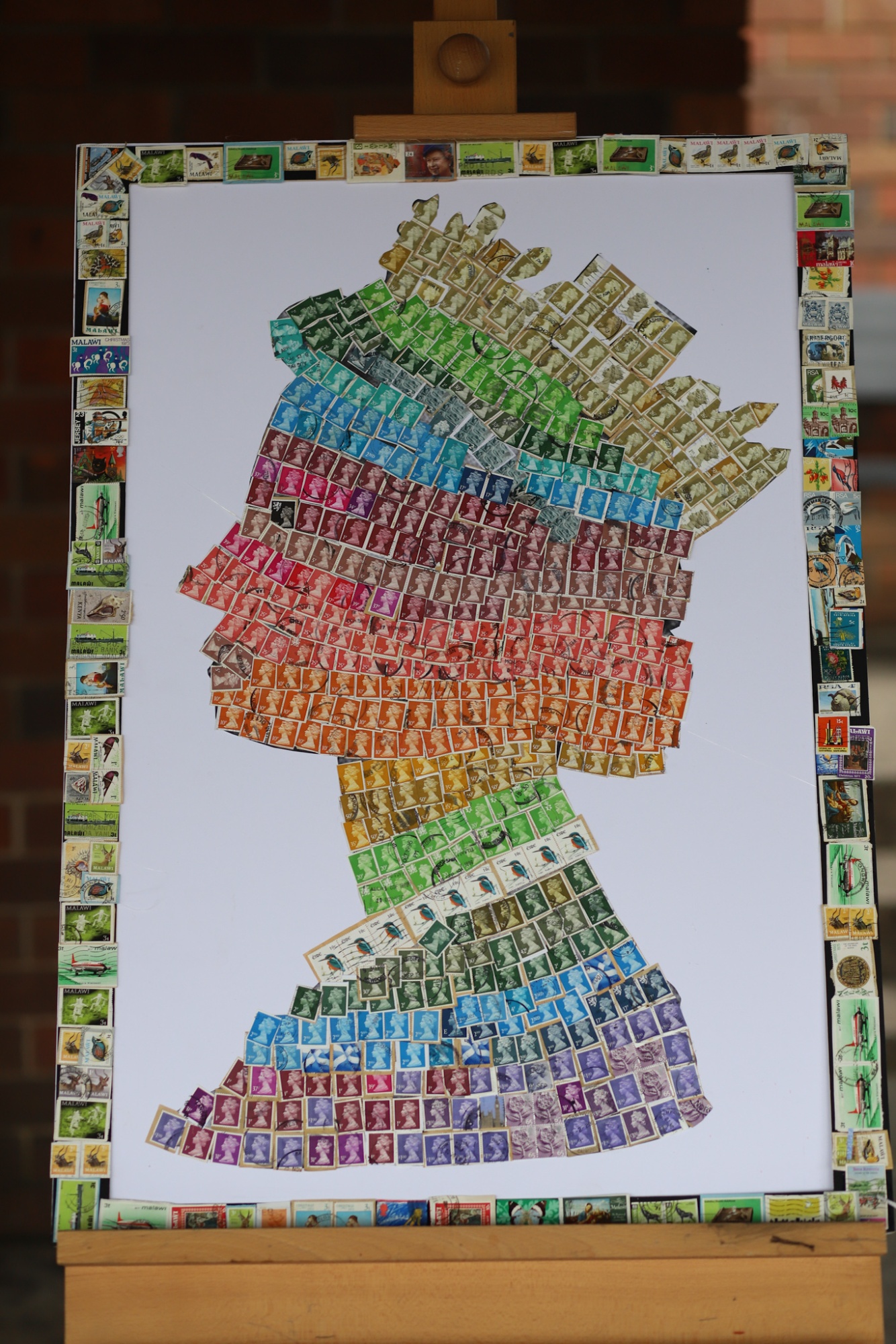 Our Lollipop Lady
On 22nd May, in memory of those who lost their lives in the Manchester bomb attack five years ago, our Lollipop Lady Wendy wore this amazing jumper! She is a wonderful person and we are very lucky to have her help every day!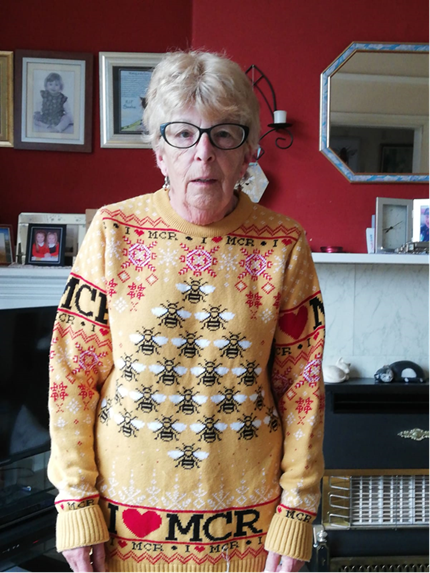 As we break up for half term I would like to wish you and your families a restful time. I hope you have some fun things planned for your time together.
Happy Jubilee Day to everyone!
I look forward to welcoming everyone back at the usual time on Monday 6th June.
Thank you for your continued support of our school.
Ms K Earle
Headteacher